Disc Golf Resort Presents
Women's Only Disc Golf Clinic
Learn from Touring Pro Ella Hansen!

January 28, 2023 @ 9:30am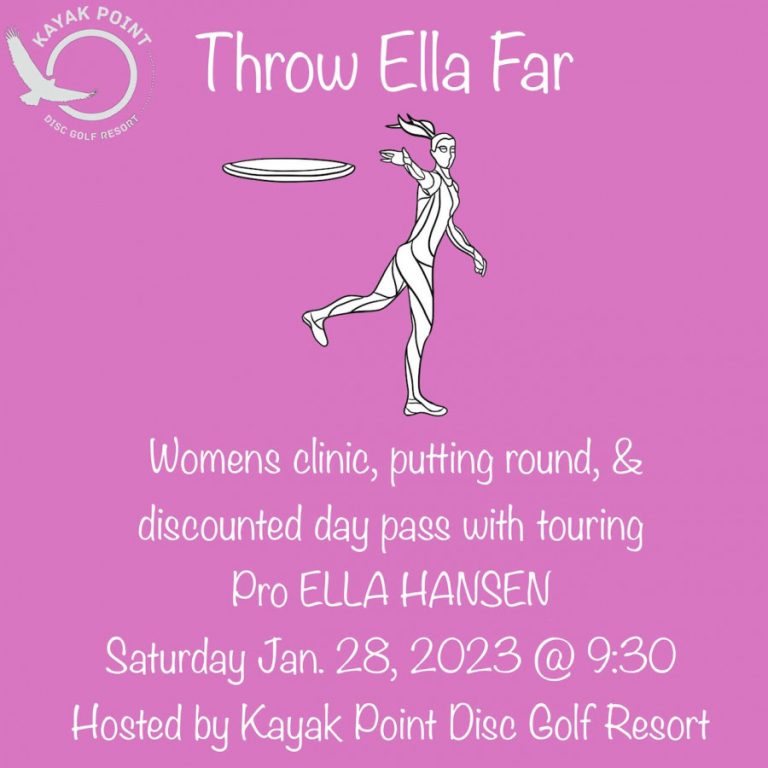 If you know Ella, you know she throws 'Ella far!
Disc Golf Resort is excited to host a women's only disc golf clinic with Seattle local, 2021 PDGA rookie of the year, 2022 distance winner and Touring Pro; Ella Hansen (PDGA # 144112)!
The clinic will provide helpful guidance and instruction to the growing number of both new and seasoned female players. Utilizing the Driving Range and the Pitch & Putt Course, Ella will share tips & tricks related to driving, up-shots, putting, and improving your mental game. 
Discounted Day Passes (50% off!) for clinic participants are available for purchase either during registration at discgolfscene.com or in the Pro Shop on the day of the event. After the clinic, head out to one of our larger courses to practice what you just learned! Tee times are required for the Red, Blue, and Gold Courses but you can either book one ahead of time <here>, or the Pro Shop can help you secure a tee time on the day of the event. 
The cost is $25/person with 100% of the registration fees going to Ella. 
Plan to check-in and meet in the Clubhouse by 9:30am.
Disc Golf Resort is the perfect place to learn to play disc golf and improve your game with a driving range, short pitch & putt course, multiple larger courses at varying levels of difficulty, and tons of space dedicated to disc golf and disc golf only. 
Player Profile from Discmania.com
Ella first played "frolf" on the University of Oregon campus for many years with her ultimate teammates, but played her first round with disc golf discs in the fall of 2019 with some Ultiworld crewmates while filming an ultimate tournament. She got her first golf discs from a friend a few months later, and started playing regularly in January 2020.
She has one career win, at the 2021 Siege at Pineway. She soon became one of the highest initially rated women upon joining the PDGA. She made the top 50% at her first National Tour and took second in the distance competition at 2021 Las Vegas Challenge! She's also a 2x ultimate world champion.
Goals for her disc golf career, she wants to make her first big lead card, win a national tour event, and become a consistent competitor with the top women in disc golf. Eventually she wants to win a disc golf world championship, too. She also strives to remain composed and in control at all times on the course, and play each shot as its own.
* 957 rated as of Oct 11, 2022
* 2021 PDGA Rookie of the Year
* 2022 Distance Winner
* 2022 Canadian National Championship Winner
* 2022 & 2021 SeaTac Takeoff Winner
* 7 career wins
* 11 top 5 finishes in 2022
Ella is a former Ultimate Frisbee player who started her Disc Golf career in 2020. 
This interview was filmed during the 2021 PDGA Pro World Championships were Ella placed 11th.
Follow Ella Hansen on Social Media!
Instagram: https://www.instagram.com/onethrowella/
Linktree: https://linktr.ee/onethrowella
Questions about the clinic? Contact us today! 
Kayak Point
Disc Golf Resort