Setting a new standard for disc golf.
Washington's top-rated disc golf destination.
Looking for Aces BBQ & Grill?
Aces BBQ is open Friday – Sunday from 9am – 4pm (or until sold out).
Disc Golf Resort (DGR) aims to create complexes of multiple disc golf courses, varying in difficulty level, that will have consistency throughout every DGR location including the same baskets, tee pads, and tee signs in an effort to push the sport towards a level of standardization that does not currently exist. DGR locations will offer a mix of amenities including but not limited to a full service pro shop, a restaurant & bar, and event rental facilities and services.
Our first disc golf destination and flagship location is at Kayak Point Disc Golf Resort in Stanwood, Washington (about an hour north of Seattle). Located on an abandoned 290+ acre golf course, the property currently features over 3.5 distinct disc golf courses of varying difficulty with beautiful rolling fairways through towering cedar forests, a fully stocked pro shop, Aces BBQ & Grill, and an annual calendar of tournaments, leagues, and clinics. 
Flagship location:
Kayak Point Disc GOlf Resort
Stanwood, Washington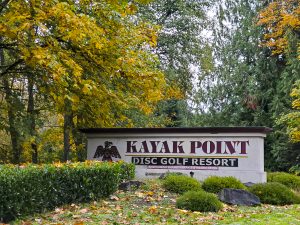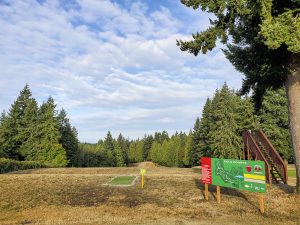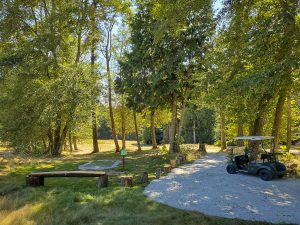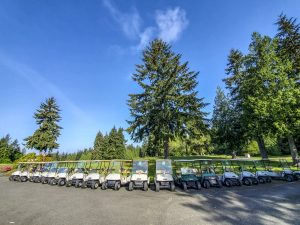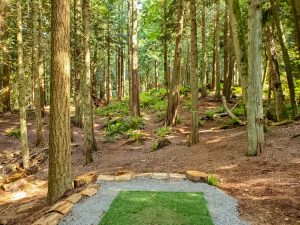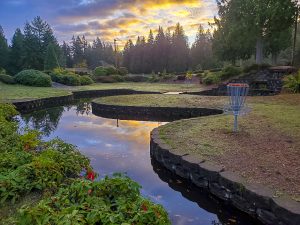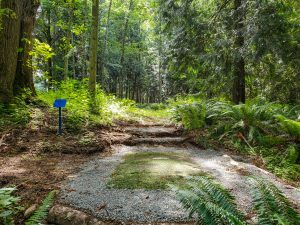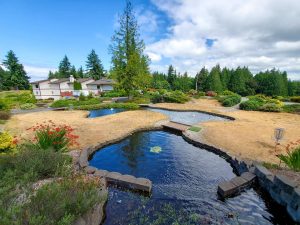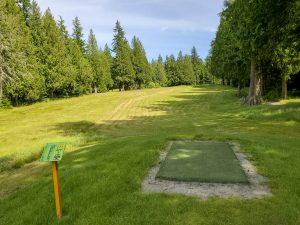 What's Happening
at Kayak Point DGR
SIMON & PARFUNKEL: December Doubles – Sunday, Dec. 17th, best shot doubles, 1 round on the Red Course, flex start, unsanctioned. Payouts, Ace Pot, CTP's. Registration opens on Oct. 17th at 6pm at discgolfscene.com.
PARMAGEDDON DOUBLES – Saturday, Jan 27th, BYOP, best shot format. 1 round on an 18-hole layout that combines 9 holes of the Gold Course and 9 holes of the Blue Course. Flex start, payouts, trophies, and more! Registration opens Thurs, Nov. 30th at 6pm at discgolfscene.com. 
WINTER LEAGUE Disc Golf Tournament Series – PRO & AM PDGA- sanctioned series every Sunday for 10 weeks! January 7th – March 10th, 2024.  Registration for all 10 weeks opens soon. Learn more here. Stay tuned!
INTRO TO DISC GOLF CLINICS: WINTER SERIES – Learn the basics to start enjoying the sport of disc golf. Great for all ages! 3rd Saturday of Oct, Nov, Dec, Jan. Learn more.
ACES BBQ & GRILL NOW OPEN FOR BREAKFAST – New breakfast menu available Friday – Sunday from 9am – 11am.
 Stay tuned for our 2024 Tournament & Event schedule which will be released soon!
OTB Tour Skins Match #93
Filmed at Kayak Point DGR May 24, 2023
Kayak Point
By The Numbers
Total Length in Play (ft.)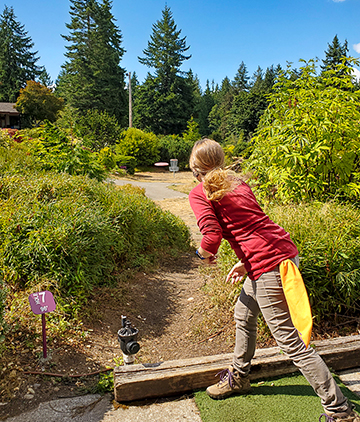 18 tees & baskets
Beginner - Advanced

Purple - True beginner
(700 and lower PDGA player rating)

Par 36 Putter course (all holes play as par 2's) with hole distances ranging from 38 - 130 feet.

Plays around the clubhouse with natural obstacles, ponds and waterways as obstacles.

Free to play during hours of operation.
Tee times not required.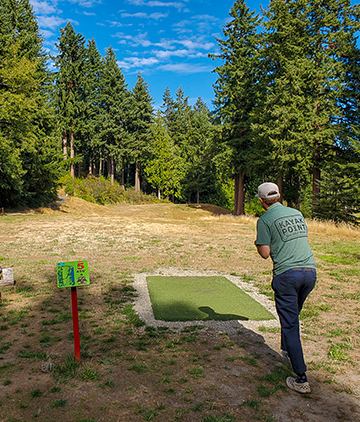 18 tees & baskets
Beginner/Intermediate

Red – Intermediate
(825+ PDGA player rating)

Par 65 course with par 3's, par 4's, and one par 5 totaling over 8,000 feet in length with lots of elevation change. Estimate about 2 hours to play.

Plays mostly on old golf fairways making use of trees near tees and baskets with 2 holes in the woods.

Green Tees: 9 alternate shorter tees on the 9 longest holes. For beginners and 825 or under PDGA player rating.

Pass & tee time required.
Golf carts permitted.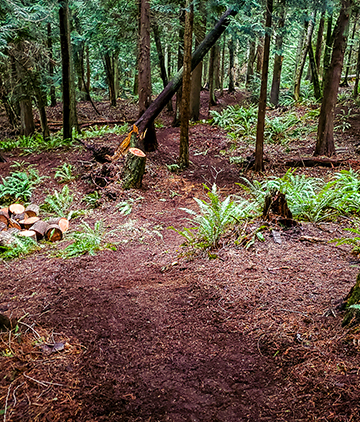 White Course
(Future Plans)
18 tees & baskets
Intermediate

White – Intermediate / Advanced
(875+ PDGA player rating)

Will play mostly through wooded areas.

Construction has begun!

Pass & tee times will be required.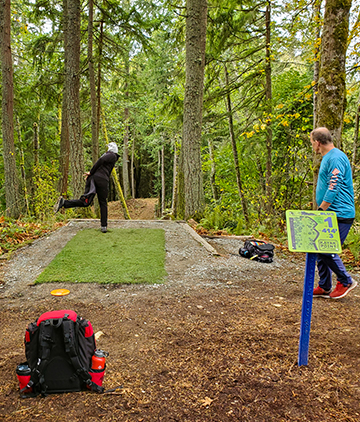 *Holes 1-12 & 18 now open for play!
When completed will be
18 tees & baskets.
Intermediate - Advanced

Blue – Advanced
(925+ PDGA player rating)

Plays 100% through the woods with long holes and tight lines through the trees.

Join us for work parties every Fri from 10am - 4pm to help us get more holes open. Day passes will be provided in exchange for volunteer hours.

Pass & tee time required.
Golf carts not permitted.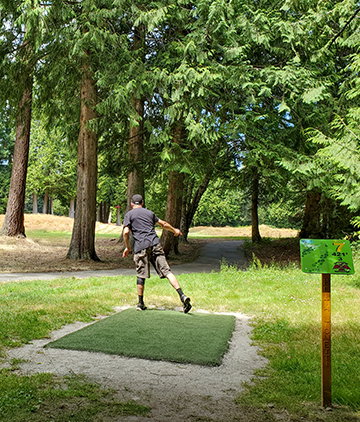 18 tees & baskets
Advanced

Gold – Pro
(970+ PDGA player rating)

Par 60 course with par 3's and par 4's, totaling 10,000 feet in length with lots of elevation change. Estimate about 3 hours to play.

Plays mostly on old golf fairways making use of trees near tees and baskets. This course requires long drives, very touchy approaches, and the greens present more danger.

Pass & tee time required.
Golf carts permitted.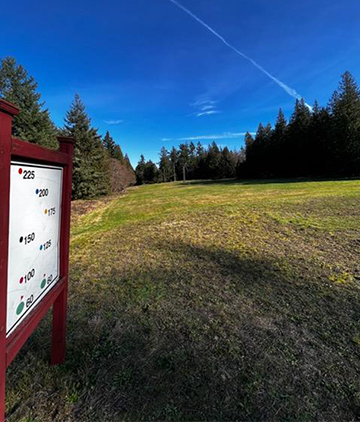 Practice Areas
DRIVING RANGE
Near the parking lot, find two long, wide, and flat tee areas facing a large open field that is mowed regularly. There are currently distance markers left over from the golf course and a sign which notes the distances in yards.

Practice your driving technique, try out different discs, and complete your field work with plenty of room and no distractions.

PRACTICE BASKETS
Dedicated practice baskets are located behind the clubhouse right between Hole 1 on the Red Course and Hole 1 on the Gold Course.

Free to use during hours of operation.

Find the courses on UDisc using the links below!
Featuring interactive maps, scorecards, leaderboards, & more. 
* The Red and Gold courses each ranked in the top 100 courses in the world, and ranked the top 2 courses in Washington State by UDisc in 2023 *
(Pitch & Putt Course ranked #4 in WA)  
… stats since June 2020 …
Greens Fees & Pass Options
How often do you plan to play?
*old price of $150 in effect until 9/20/23
Annual Pass / Membership for Couples & Families
Never a charge for youth 12 & under!
Walkers/non-players do not need to purchase passes.
We have 2-seater golf carts available for rent to help you enjoy your round(s) on the Red and Gold Courses.  Carts are rented on a "first come, first served" basis and MUST STAY ON DESIGNATED CART PATHS AT ALL TIMES.  To see if one is available, just ask when checking in for your tee time.
Cost: $22/round (includes tax)
Whether it's for a birthday, a Christmas gift, or any other occasion,  DGR gift cards are the perfect gift for the disc golfer in your life!  Gift cards can be purchased in any amount and can be used on anything at the Pro Shop like passes, cart rentals, discs, gear, apparel, or food and drinks. Purchase online and redeem it using the 16-digit gift card number, or purchase a physical gift card in the Pro Shop.
Intro to Disc Golf:
Winter Series
Join us on the 2nd Saturday of October – January to learn how to play disc golf including the basic fundamentals from disc selection, types of throws, driving and putting techniques, plus basic rules and etiquette. Register through discgolfscene.com or in the Pro Shop.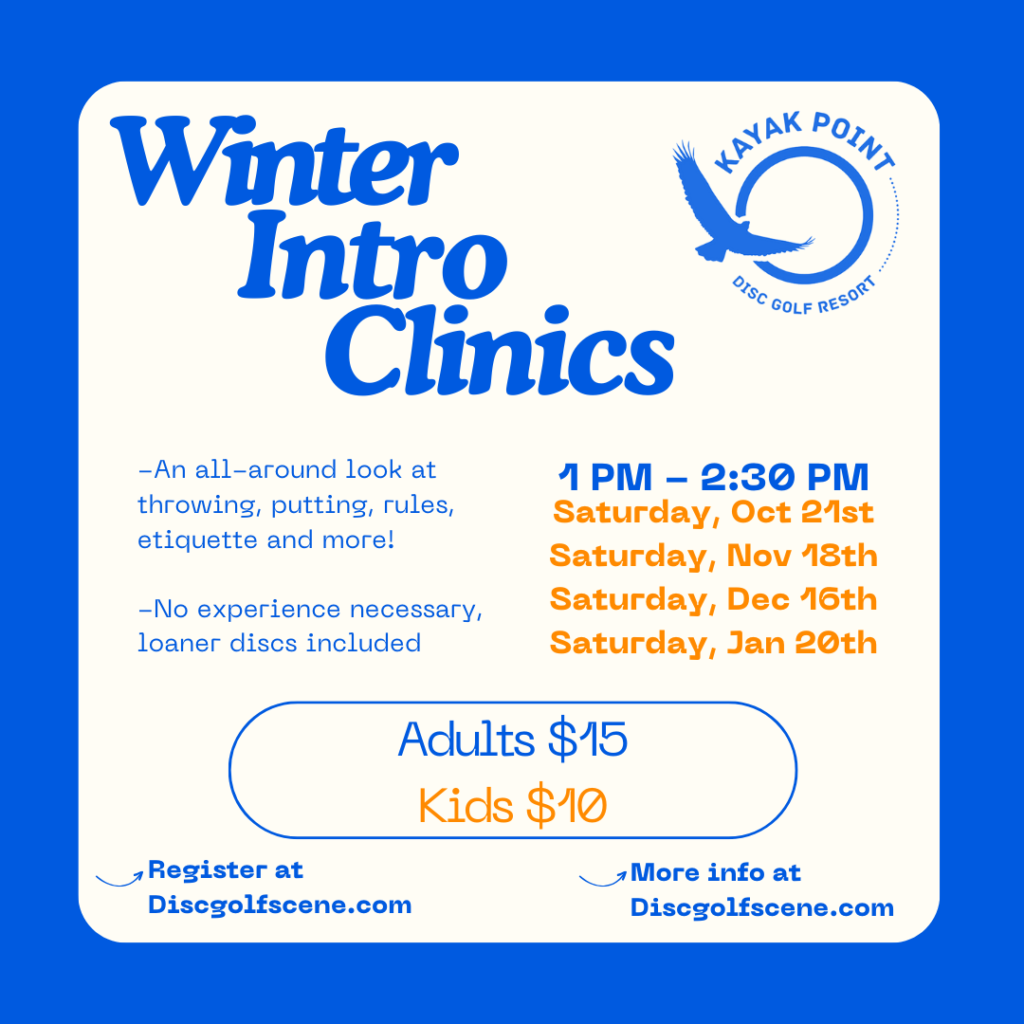 Kayak Point DGR Pro Shop offers discs from over 25 manufacturers, bags & backpacks, roller carts, towels, apparel, and other gear. Also offering sandwiches from Aces BBQ, snacks, drinks, and beer.
Follow us on Instagram and Facebook to stay up to date on the latest arrivals!
Join us for Work Parties to help get the rest of our first 100% wooded course, the Blue Course, open for play! Just bring work gloves, we'll provide tools. In exchange for your help, you'll receive day passes so you can play any of our courses for free on future visits. Inquire to volunteer, or watch for work party announcements on Facebook and Instagram.
Have you heard the Buzzz?
"They are consistently improving, the courses, the pro shop, and carts. Fantastic crew working there, mega friendly and helpful. Not to mention the awesome leagues and tournaments they put on. A true Gem in the NW.
We are all hoping they can get the Pro Tour out here in the future."
"Super friendly and helpful staff! Great disc selection at a very nice resort! Prices are exceptional and the multiple course layouts are challenging and diverse. If you like disc golf, be prepared to spend some money, it's impossible to go there without wanting to buy at least one thing. Oh! Also! They have a super fun full length par 2 (pitch and putt) course that's actually very fun! Bring a friend or 3 and lock up a time slot online and prepare to have such a great time!"
"Always a great experience when I go! I've taken my 6 year old daughter a few times and we will stop in the pro shop to take a look at discs and what not. Unfortunately I can't remember their names, but the guys running the shop will give her minis to putt with on the mini baskets while I look, and they'll interact with her. Always really friendly. I lost a disc on the pitch and putt last time we went, (yes the pitch and putt 😂) I didn't put my name and number on it. I gave them my contact info and a description of the disc. A few days later they text me to let them know they found it and held it for me until I was able to get it. Great course, great experience, great service!"
Kayak Point
Disc Golf Resort