Sunday
December 18th, 2022
PDGA-sanctioned, XC-Tier, BYOP Doubles Tournament
Tournament Overview
Join us this winter for our first doubles event, December Doubles! A BYOP (Bring Your Own Partner) PDGA sanctioned XC-tier tournament.
The format is Best shot, with all divisions playing 1 round on the Red Course.
Pre-registration (as a team) through Discgolfscene.com is required. 
Divisions are available for all player skill levels but the highest rated player on a team must meet PDGA's division rating guidelines.
Payouts will be in the form of scrip to the Kayak Point DGR Pro Shop for Ams and cash via PayPal for Pros. 
Registration opens Thursday, December 1st at 6pm.
ENTRY FEES:
Entry fee of $42/team includes…
– $18 for 2 discounted day passes ($9/player)
– $4 for PDGA fees ($2/player)
– $20 to Payouts ($10/player)
Optional CTP buy in = $3/team 
Optional Ace Pot = $2/team  (Tournament Ace Pot is at $1000!)

—————————
TEE TIMES:
Flex start; teams will choose a tee time between 9 am to 12:30pm during registration. Registrations MUST BE DONE AS A TEAM. Both teammates must CHOOSE THE SAME TEE TIME AND SAME DIVISION. Cards of 2 teams/4 players can include mixed divisions.
Player's must check-in inside the Clubhouse at least 10-minutes prior to their tee time.
—————————-
DIVISIONS FOR TEAMS:
The highest rated player on each team must qualify for the division the team is competing in, although the tournament round will not receive a rating. (Doubles rounds are not rated)
—————————-
ACE POT:
No Aces were hit during the previous tournament for which DGR was the Tournament Director (TD), Leftover Turnover II.  The $1,000 cap has been achieved, so $1,000 is set aside for the first Ace and a Back Up Ace Pot has over $400.  If an Ace is not hit during this event, all Ace Pot funds will continue to roll over to the next PDGA sanctioned tournament with DGR staff as the TD. 
—————————
LIVE SCORING:
Scoring for both rounds will be handled using PDGA Live Scoring. Download the app for Apple or Android, or visit the website at https://www.pdga.com/score/.
The access code will be provided at check-in.
—————————
GOLF CARTS:
Golf carts will not be available to players during tournament rounds. They will be available for rent to spectators.
—————————
EARLY REGISTRATION:
Annual Pass holders receive early bird registration opportunities for all DGR tournaments as annual event sponsors. 
—————————
BEST OF LUCK TO ALL THE PLAYERS!
EVENT PARTICIPANT COVID-19 WAIVER:
"I understand that participation in this event carries with it risk of injury or death and I, on behalf of myself, my heirs, administrators, executors, and assigns expressly release, forever discharge, and hold harmless December Doubles, the Tournament Director(s), Disc Golf Resort, and the PDGA (the "Releasees") for all personal injury, loss, damage to property, or death in connection with my participation in this event. Further, I understand and acknowledge that there currently exists a global pandemic associated with the disease COVID-19, that I am participating in this event at my own risk, that any safety precautions designed to protect against the spread of COVID-19 undertaken by the Releasees does not guarantee I will not contract COVID-19, and that, the foregoing notwithstanding, it is my specific intent to affirm my foregoing release of the Releasees with respect to any personal injury, loss, damage to property, or death I may experience from COVID-19 in connection with my participation in this event."
Congrats to all the players!
Results are available at https://www.pdga.com/tour/event/56877
Following the event, player payout info will be shared below, shared through our Facebook page, and will be posted on the Events Bulletin Board in the Kayak Point clubhouse. Pros receive cash via PayPal. Ams receive scrip via gift cards to the Pro Shop that will be available following the event.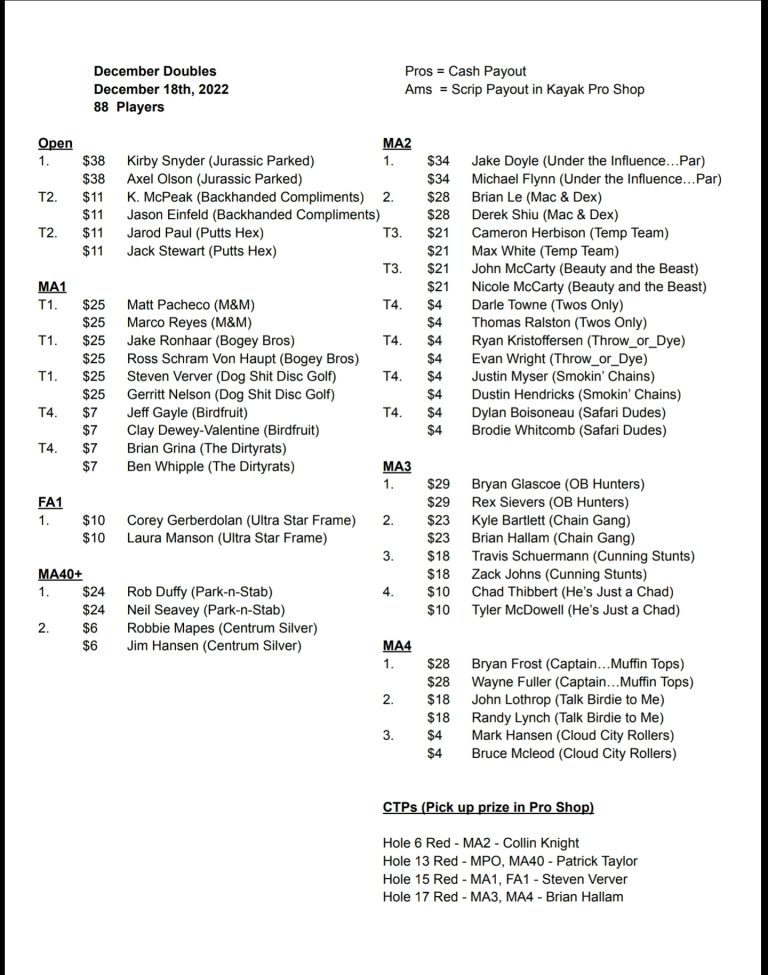 Kayak Point
Disc Golf Resort