Discs, gear, knowledgeable staff, & friendly service.
Everything to support
Your Disc golf Dreams
Check-In, Check-Out, Start Playing
Visit the Kayak Point Disc Golf Pro Shop in the clubhouse to check-in for tee times, purchase passes, rent golf carts, and to find all the discs and gear you need to enjoy the sport of disc golf.
Our knowledgeable staff are happy to help everyone, from new players who are just getting started, to more experienced players who may be looking for a new disc to fill a gap in their game. We can help you take your game to the next level. The Kayak Point Pro Shop is your on-the-course-source for discs, bags, carts, towels, chalk bags, shirts, hats, and more. We also carry a variety of disc golf baskets so you can take the game wherever you go, or set it up in your yard for easy practice.  
Currently offering pre-made sandwiches, snacks, candy, drinks, and over 30 types of canned beer, as well as over-the-counter aids like Advil, Antacids, Benadryl, Band-Aids, fingernail clippers, handwarmers, sunscreen, and insect repellant. 
Our prices are typically competitive with what can be found online once you include shipping fees. 
Visit often as we receive new items every week
and our stock rotates regularly!

Find the Pro Shop on UDisc!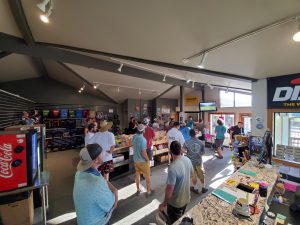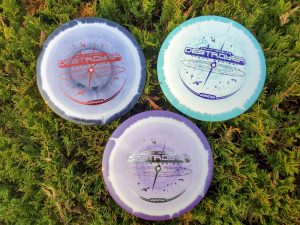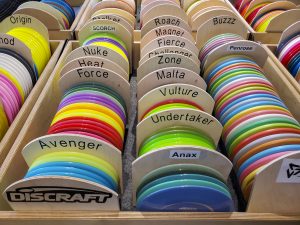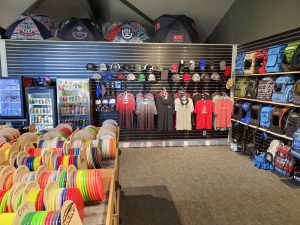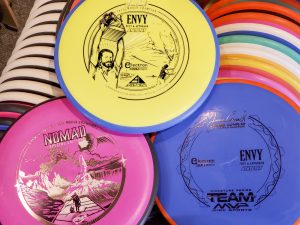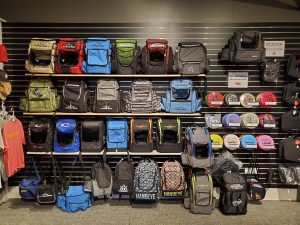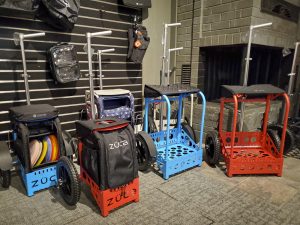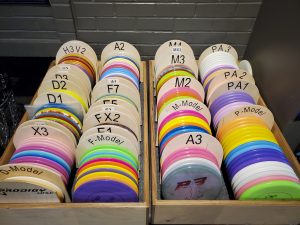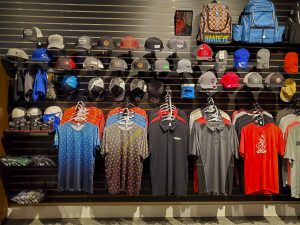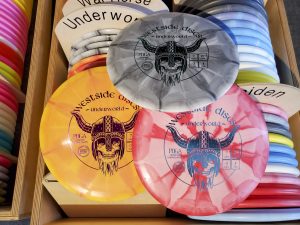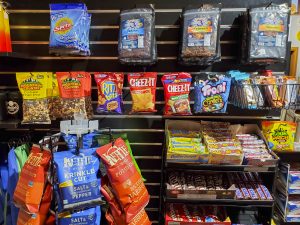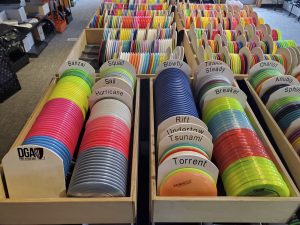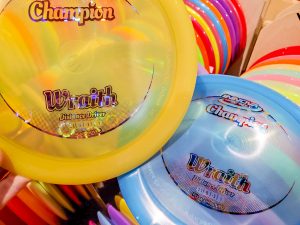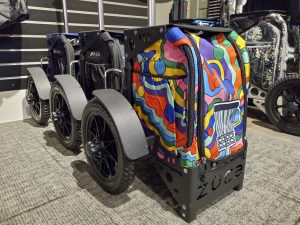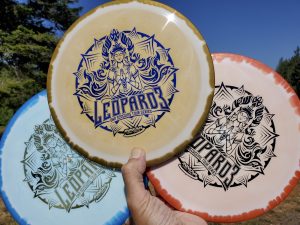 Drivers, Mids, Putters & Minis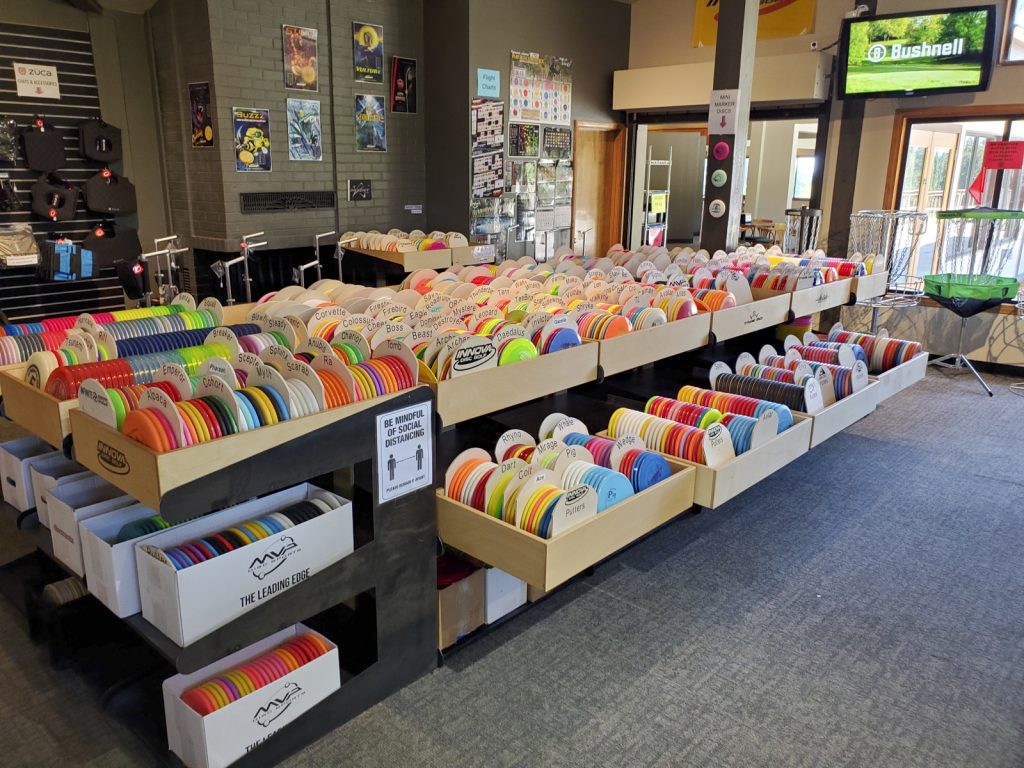 We strive to stock the best known and most popular brands, as well as a variety of lesser-known, new and/or smaller brands. Stock rotates regularly and we're always looking to expand our inventory to carry what disc golfers want and need. 
If you're new to the game and aren't sure where to start with buying discs, we carry starter packs from several manufacturers that start around $25 and come with at least 3 discs (a driver, a midrange, and a putter). If you'd like to pick out individual discs, our staff are happy to provide recommendations. 
Our disc pricing structure ranges from $12 for base plastics to $20 on average for premium plastics, and higher for special edition, tour series, and limited-run discs.
At this time we only support in-store shopping. We may expand to offer products online in the future, but for now, our inventory is for our Kayak Point visitors and guests. 
Carrying Discs From These Brands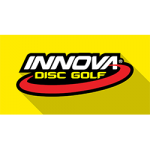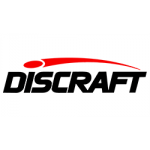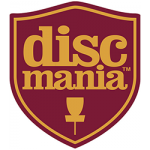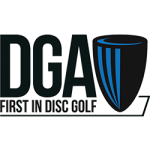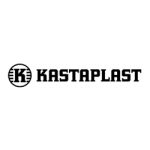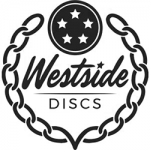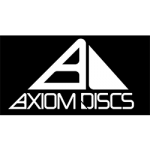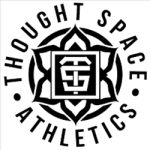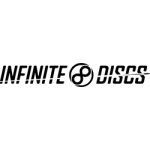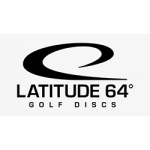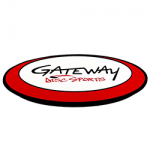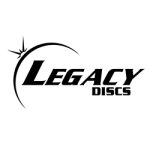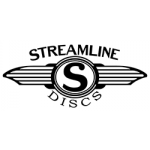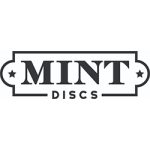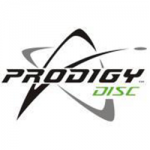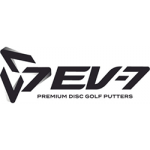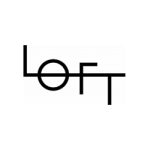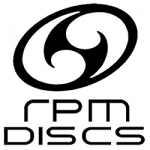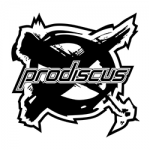 Carry Your Discs in Style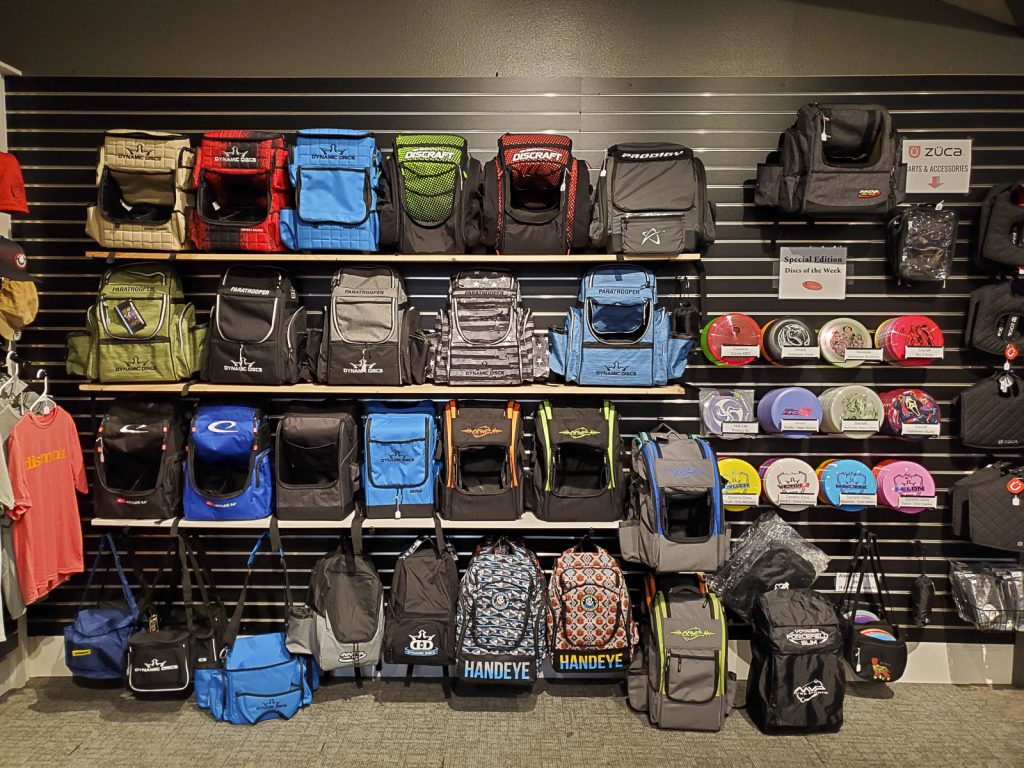 We carry over-the-shoulder bags and backpack style bags from a range of manufacturers including Innova, Discraft, Dynamic Discs, MVP, Latitude64, and Handeye Supply Co. 
Guests are welcome to try them on, see how discs fit, and check out all the accessory pockets and pouches.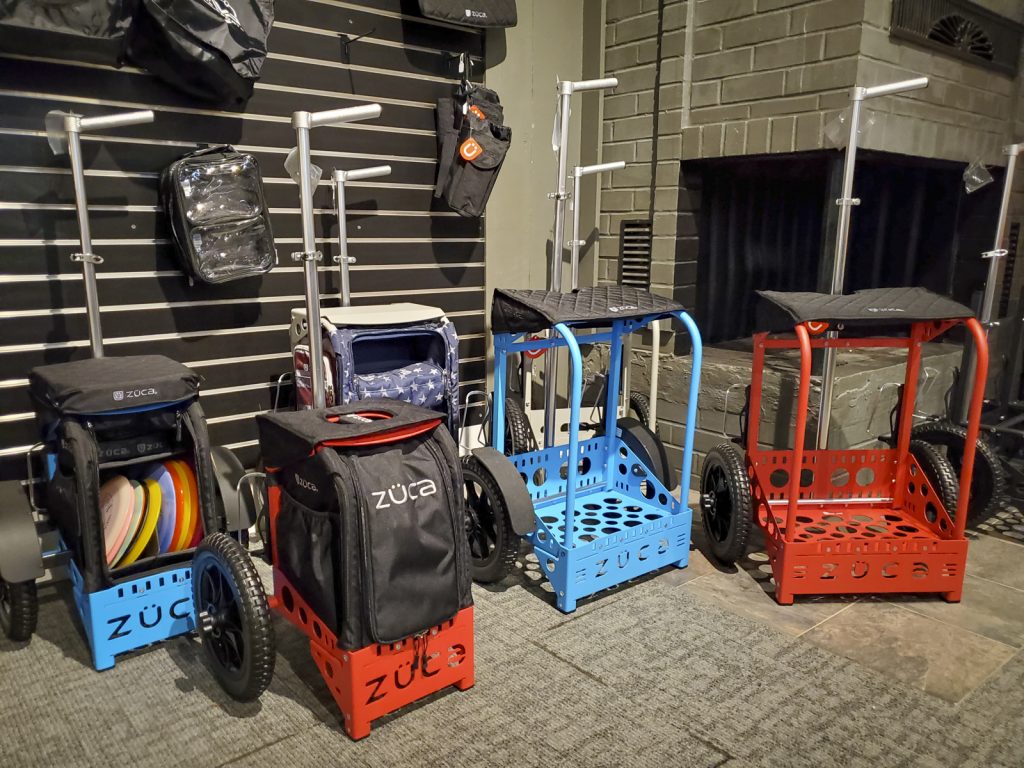 Roller carts come in a variety of sizes and shapes, some with their own built-in bags and others that support carrying your own separate bag.
We try to keep a decent mix of the cart styles offered by Zuca Inc., as well as their seat cushions, accessory pouches, putter pouches, rain covers, fenders, and other accessories.
A disc golf cart can alleviate stress on your shoulders and back since you're not carrying all of your discs on your back or shoulders. Some carts also come with built-in seats that allow you to rest your legs between throws. 
Visit or call the Pro Shop to learn about our current inventory.
Disc Golf Gear & Accessories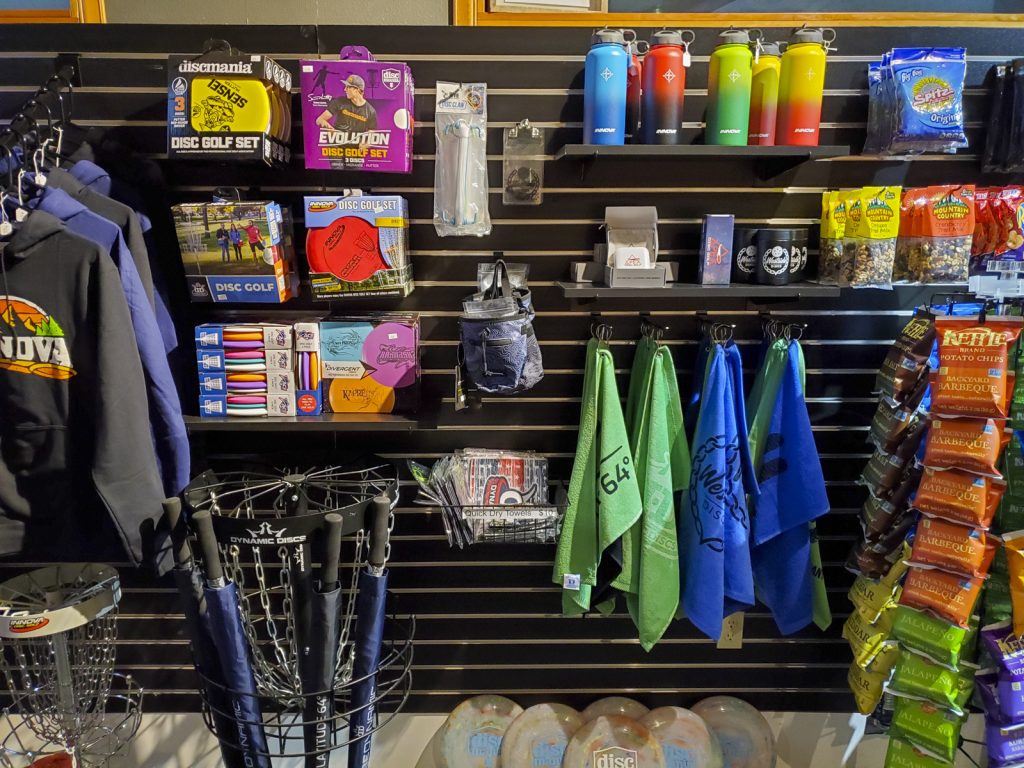 Sometimes it's the little things.
towels, including FlighTowel!
chalk bags & hand bags
umbrellas
disc retrievers
water bottles
scorecard clipboards
handwarmers 
UV flashlights (for glow golf!)
and more…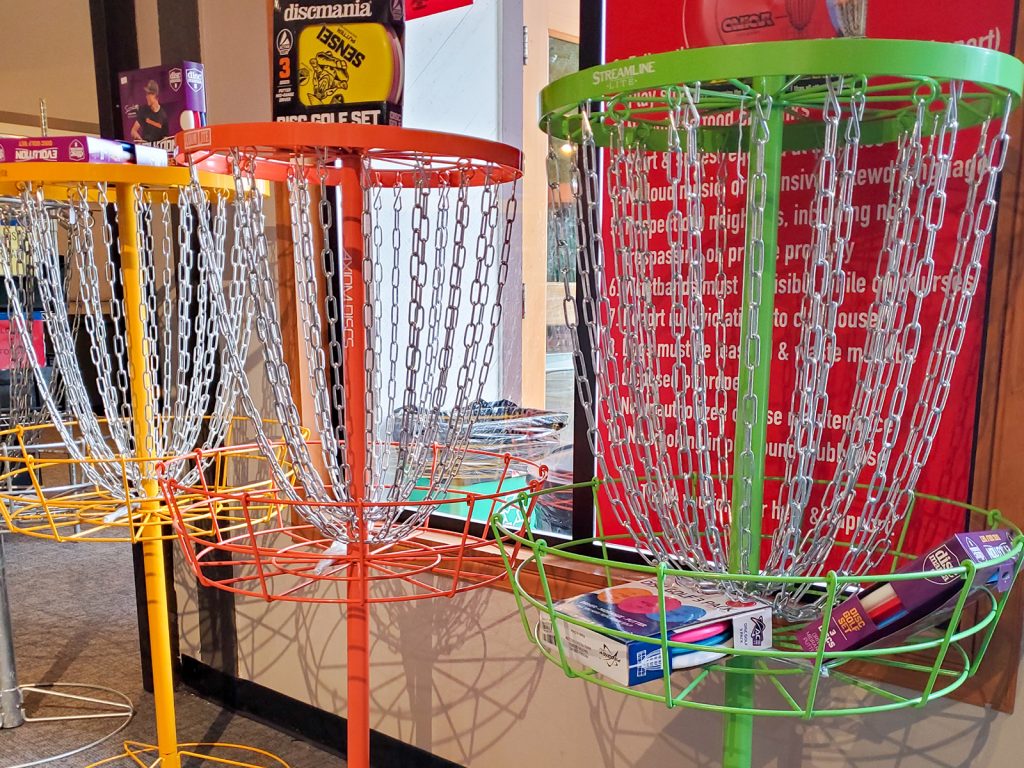 ...And Disc Golf Baskets!
The Pro Shop typically has a selection of several types of travel-friendly baskets and training baskets. 
Travel-friendly baskets can be put together quickly and easily, without the use of additional tools. Once disassembled or collapsed, they pack up small and travel well.
Training baskets are usually made of heavier-duty materials and more closely resemble what you'd find on a disc golf course. They don't disassemble as quickly or easily but are usually meant to better withstand time in the outdoor elements. 
Stop by or give us a call to see what's currently in stock.
Show your support for your favorite sport by rocking a disc golf hat, shirt, Grip6 belt, or even socks! 
We also have several styles of men's and ladies' Kayak Point Disc Golf Resort branded sweatshirts, t-shirts, and hats.
Find disc golf apparel from a variety of brands that currently includes Innova, Discmania, DGA, Gateway, Latitude64, Dynamic Discs, Westside Discs, Prodigy, and Handeye Supply Co.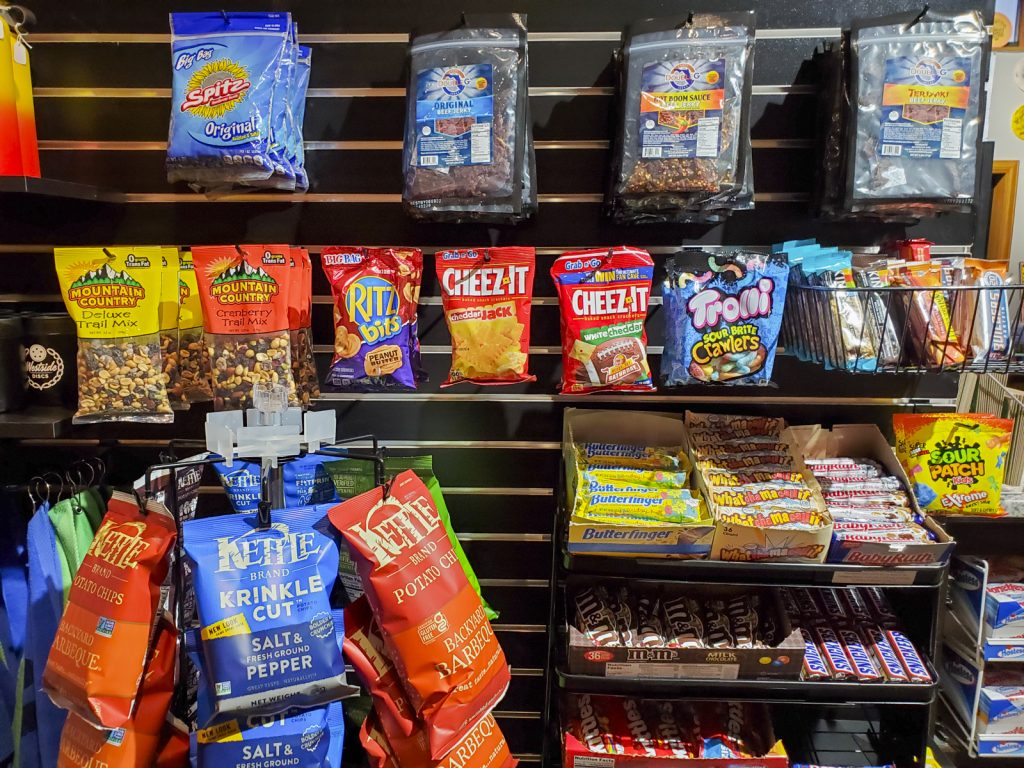 The Kayak Point Pro Shop has a variety of snacks and treats like chips, crackers, jerky, nuts, trail mix, and candy, as well as sandwiches and treats made in-house by Aces BBQ. 
Now featuring DoubleG Craft Jerky!
Carrying non-alcoholic beverages like Gatorade, Coke, Diet Coke, Sprite, Iced Tea, Red Bull, Monster, Bang, and more. 
Adults 21+ may choose from a seasonal and regional rotating selection of over 30 canned beers to enjoy around the clubhouse and courses.
NOW OPEN on Weekends!

Enjoy fresh smoked BBQ, Burgers, Brats, & sides.
It's been a long journey in the search for the right restaurant partner but we feel great about the new partnership being forged and are excited to be offering some tasty food & drink options. 
Aces BBQ offers smoked meats and traditional sides like cornbread, slaw, potato salad, fries, and tots. The full menu include classic BBQ items such as smoke ribs, pulled pork, brisket, chicken, and sausages, plus burgers, brats, sandwiches, house-made sauces, and desserts.
We look forward to sharing a meal with you soon!
Send inquiries to AcesBBQ@discgolfresort.com 
The Kayak Point Pro Shop has a very active lost & found program. Guests are encouraged to drop off any discs they find on the property with our staff in the pro shop who will make efforts to get it back to its rightful owner. When we find discs, or discs are turned in to us, we send a text message to the phone number on the disc to let the owner know their disc is available for pick up in our Lost & Found for the next 60 days. After 60 days, if the disc is still there and we haven't heard from the owner asking us to hold it longer, the disc is placed in our $5 Used Discs Bin. This keeps the Lost & Found to a manageable level and allows abandoned discs to have a new life.
Kayak Point
Disc Golf Resort