Setting a new standard for disc golf.
Washington's premier disc golf destination.
What started as a dream...
Disc Golf Resort has set it's sights on elevating the disc golf experience. How? By pushing for the standardization of course elements including baskets, tee pads, and signage. Starting with the 5 courses at Kayak Point, course elements will be identical throughout. From there, DGR strives to bring this level of standardization to other courses near and far. Disc Golf Resort course design will also match, or exceed PDGA's player rating system. Courses will still vary in difficulty level and course environments, but they will all have consistency throughout. This is all in an effort to push the sport towards a level of standardization that does not currently exist. DGR locations will offer a mix of amenities including but not limited to a full service pro shop, a restaurant & bar, event rental facilities, a brewery & tap house, and camping (dependent on specific future DGR locations).
Once completed, Kayak Point, our flagship location, will host a total of four full length 18-hole disc golf courses that will be fun and challenging for players of all skill levels, an 18-hole par 2 pitch & putt course, a restaurant & bar, a pro shop, event rental space, and nearby camping opportunities. Enjoy over 300 acres of space dedicated to the sport you love!
Kayak Point is located in Stanwood, WA in Snohomish County on a previously abandoned golf course. In 2019, the county gave contractual support to transition the property from traditional golf to disc golf. Support the efforts by volunteering at work parties, visiting to play rounds, and by spreading the word.
The Pitch & Putt Course, Red Course, Blue Course, and Gold Course are now open for play! Tee times are required for the Red, Blue, and Gold courses. Purchase your Pass in the Kayak Point Pro Shop and enjoy your time on the property!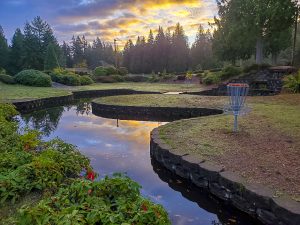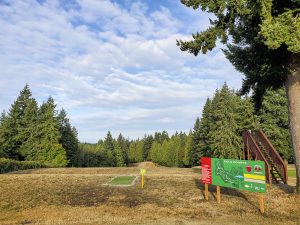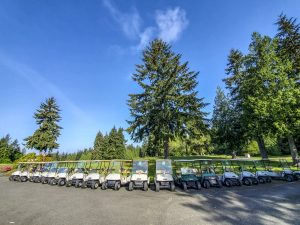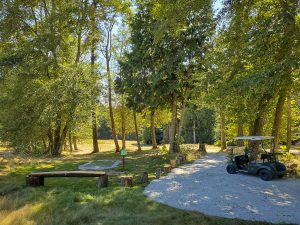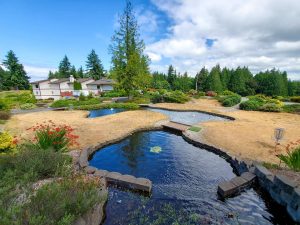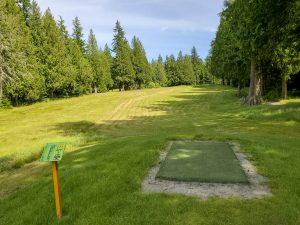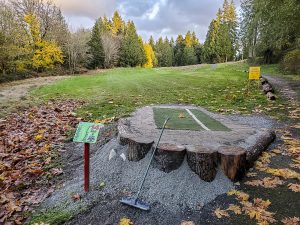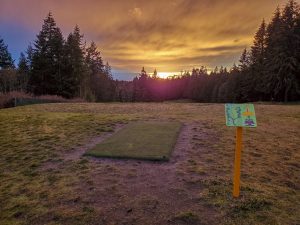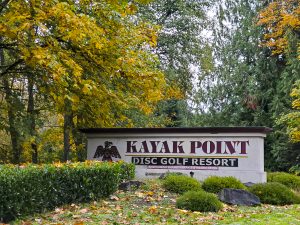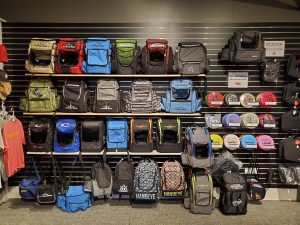 Our Course Design Philosphy
DIFFERENT COURSES FOR DIFFERENT SKILL LEVELS
We offer a mix of disc golf courses that are specially designed to challenge players across the full range of skill levels, from true beginners to professionals. Each course is designed to offer a specific degree of difficulty for a certain skill level range, much like some other courses offer multiple tee pad options for each hole. DGR has adopted a color scheme that matches the PDGA's player rating scale to help convey the skill level range that each course is designed to challenge. The PDGA and DGR skill level color scale is as follows:
Purple – True beginner – (700 and lower PDGA player rating)
Green – Novice – (825 and lower PDGA player rating)
Red – Intermediate – (825 PDGA player rating)
White – Intermediate / Advanced- (875 PDGA player rating)
Blue – Advanced – (925 PDGA player rating)
Gold – Pro – (970 PDGA player rating)

CHOOSING THE RIGHT COURSE
For the best experience and challenge for any player, we suggest playing the course that most closely matches your PDGA player rating. If you're unsure of your rating, we suggest starting with one of the lower rated course layouts and progressing to more challenging courses as your scores dictate. You can use the chart above for a frame of reference. While you may be interested in seeing how well you fair on the most difficult course, playing a course well above your skill level may not provide the most enjoyable experience.
Keep in mind the design methodology is as follows, and works out mathematically as such.
If you are a 825 rated player, you should be able to shoot par on the Red Course.
If you are a 970 rated player you should be able to shoot par on the Gold Course.
For each course, you can consider that if you shoot par on that course your round rating would be equal to the stated player rating for that course.
We recommend keeping this in mind while playing the courses. If you're just starting out, or well under a 970 rating, and you shoot double digits above par on Gold, it's OK. You are likely shooting at your skill level on that highly technical course. 
To estimate your rating for a course you have played, take the course player rating for par stated above and add or subtract 10 points for each stroke you shot over or under par.  You add the points when under par, and subtract the points when over par. For example, if you shot -3 under par on the Red Course, the math would look like this: Red Course player rating for par is 825. You shot -3, so 3 x 10 = 30 points. Add 30 points to 825, which equals an 855 rated round. So far, analytics have proven to match this algorithm pretty consistently.
If you're still unsure which course is best for you or your group, just ask one of our team members and we'll be happy to help.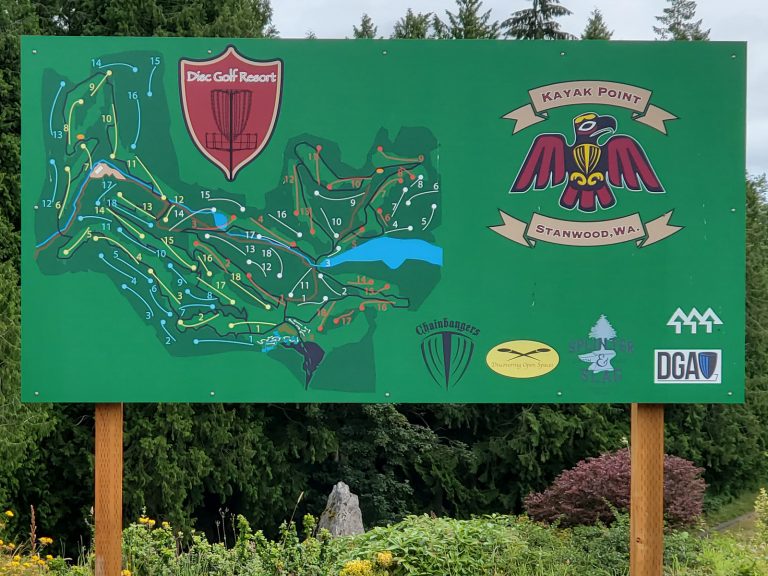 Follow the Disc Golfer's Code
(Play smart, Respect the course, Represent the sport)
No outside food or drinks
Shirt & shoes required at all times
No loud music, or offensive or lewd language
Respect our neighbors, including no trespassing on private property
Wristbands must be visible while on courses 
Report rule violations to clubhouse 
Dogs must be leashed & waste must be disposed of properly 
No unauthorized course maintenance
No smoking in or around clubhouse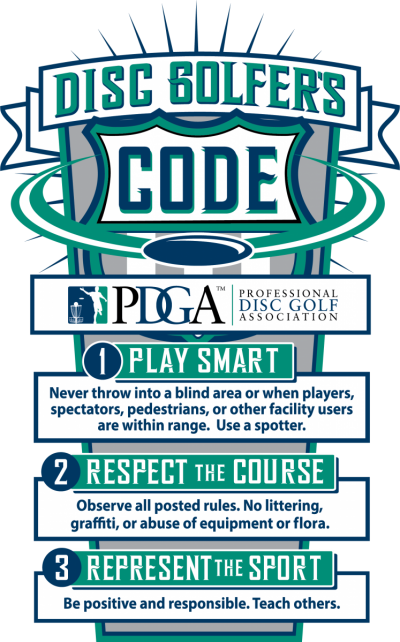 Let's be real… It takes a dedicated team of individuals to make Disc Golf Resort "work."  This includes everyone from retail staff, mechanics, course marshals, cart assistants, landscapers, and more.  We couldn't have done this without the support of all of our staff along the way, no matter the job at hand.  In it's short life up to now, Disc Golf Resort has positioned itself as one of the top rated disc golf experiences in the world and it couldn't have been done without the assistance of everyone who has helped along the way.  Following are some of the key people who are focused on making Disc Golf Resort live up to it's grand potential.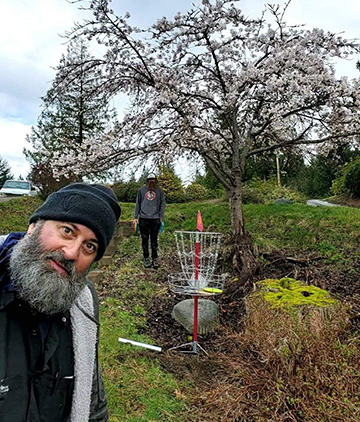 Keith Lionetti
Owner
PDGA# 40275
Focus: Business development, Course design & development, Operations, Grounds & facilities

Keith's fanaticism for disc golf began in the late 80's/early 90's and developed into a range of disc golf related business and volunteer pursuits. He is a founder & CEO. He's designed logos and disc graphics, course layouts, disc golf bags, course components, and retail shop display elements. He's a fundraiser, a concept developer, and a relationship builder. He's an educator. Above all, Keith is a proud father. He is the visionary behind DGR. He opened Chainbangers disc golf shop, ran tournaments and clinics, helped install, improve, save, and maintain courses, and much more to grow the sport around the Seattle, WA area. Keith is currently focused on opening the Blue Course and the restaurant at Kayak Point.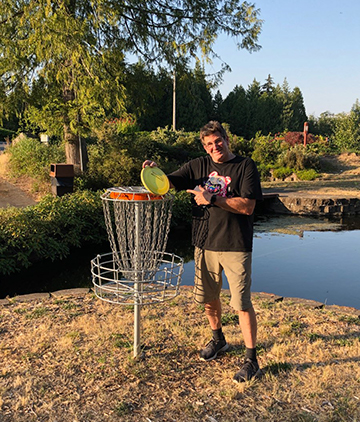 Eric Edgerton
Owner
PDGA# 14138
Focus: Pro Shop, Events, Retail purchasing

Eric began playing object/target disc golf and Ultimate in Indiana in 1981. He joined the PDGA in 1998 and started playing tournaments here in Washington state and beyond. Eric ran the Lakewood Open from 2003-2009 and the Lakewood monthly Ace Pot from 2003-2020. He's played 177 sanctioned events... so far. Find Eric around the clubhouse on weekends helping guests get the most out of their DGR experience and gathering feedback in the pursuit of constant improvement.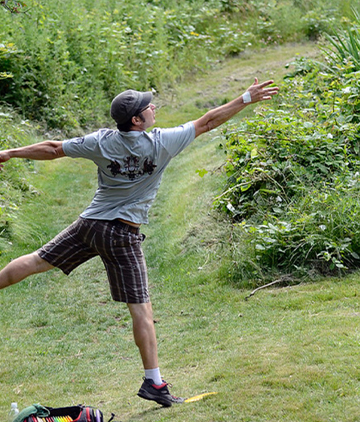 Robb Gunn
Owner
PDGA# 19825
Focus: Pro Shop display design & development, Retail purchasing, Business development

Robb discovered disc golf at De Laveaga in Santa Cruz in 1999, and has been staying involved in the sport ever since, including putting as many courses as possible in the ground, keeping local courses looking snazzy, and playing competitively since joining the PDGA in 2002. Nowadays, Robb runs a custom wood & metal design shop called Splinter & Slag, still competes in the occasional tournament, and helps to keep the business on track and the Pro Shop stocked.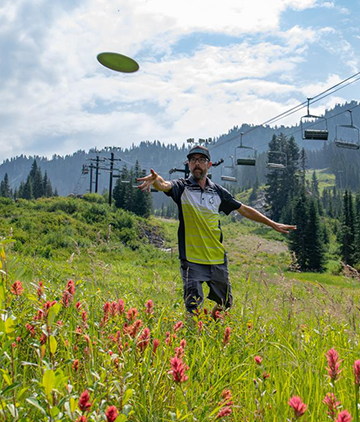 Andy Jaynes
Manager
PDGA# 118425
Focus: Events, Operations, & Marketing

Andy started playing disc golf recreationally in Knoxville, Tennessee in the late 90's. He started a local club in Leavenworth, WA, ran weekly events, and organized a handful of tournaments before moving west to help support DGR full-time. He has a passion for photography and spreading the joys of disc golf, and helps DGR stay "on course" in it's pursuit of greatness.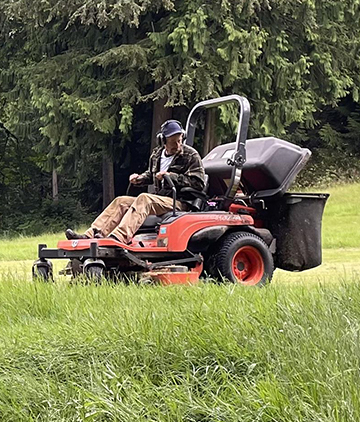 Rob Duffy
Grounds Ambassador
PDGA# 58862
Focus: Course Improvements & Beautification

"Duffy" is a disc golfer and landscape artist. He has helped to transform the once abandoned and returning-to-the-wild golf course into the top-rated set of courses players find today. He works tirelessly to beautify tees, fairways, and greens and is constantly improving the player experience. You can find Duffy working on the courses midweek, and playing Leagues and casual rounds on the weekends.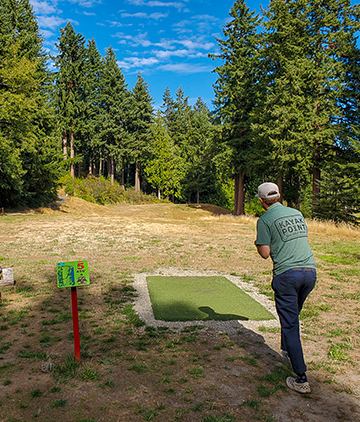 Brian Scott
Education Ambassador
PDGA# 191844
Focus: Events & Education

Brian combines his love of disc golf and experience in customer service, retail, and education at Kayak Point. He helps to ensure that guests enjoy their time whether inside the Pro Shop or out on the courses. Brian also TD's tournaments and is focused on helping to bring educational clinics to the array of offerings at Kayak Point.
Kayak Point
Disc Golf Resort