PDGA-sanctioned, C-Tier, Singles Tournament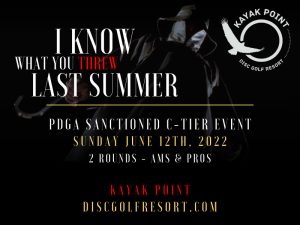 I Know What You Threw Last Summer
Welcome to "I Know What You Threw Last Summer." A 2-round, 1-day event that is also an added cash booster for the highly anticipated Kayak Open B-Tier tournament this July. The event is sanctioned by the PDGA as a C-Tier so rounds will be rated. Payouts will be in the form of scrip to the Kayak Point DGR Pro Shop for Ams and cash via PayPal for Pros. Divisions will be available for all player skill levels. 
Registration opens Wednesday, April 13th at 6pm.
Players must pre-register and prepay through discgolfscene.com.
Round 1 tee times are available from 9am – 1pm. Round 2 tee times will be between 1:30 – 5:30pm.
Registration will include a tee time for BOTH rounds. Round 1 and 2 will be played with the same card mates.
Player's must check-in inside the Clubhouse 10-minutes prior to their tee time.
LAYOUTS:
Layouts are the same for ALL DIVISIONS
Round 1: Red Course
Round 2: Red/Green Layout (Short tees on holes 4, 5, 7, 9, 10, 11, 12, 16, 18)
ENTRY FEES:
AMS & PROS: $50/player
… includes …
$12 day pass (discounted)
$20 to payouts
$10 to Kayak Open Pro Payout Booster
$4 to CTP's (1/round)
$2 to Ace pot
$2 to PDGA fees
LUNCH OPTION:
We will be serving handmade Gordito burritos with chips & salsa and a cookie for lunch. If interested you MUST pay the additional $15 for the lunch option during registration (be sure to choose beef or chicken). We cannot guarantee enough food for those who do not pre-pay.
ACE POT:
If Ace pot is not hit, it will roll over to the next PDGA sanctioned tournament with DGR as the TD.
LIVE SCORING:
Scoring for both rounds will be handled using the PDGA Live Scoring website at https://www.pdga.com/score/. The access code will be provided at check-in.
GOLF CARTS:
Golf carts will not be available to players during tournament rounds. They will be available for rent to spectators.
Annual Pass holders receive early bird registration opportunities for all DGR tournaments.
KAYAK OPEN BOOSTER:
The Kayak Open is our biggest tournament of the year, and only B-tier scheduled at DGR for 2022. The added cash from this tournament will help to attract more professional talent to the Kayak Open as well as helping to grow the disc golf scene in Washington. We hope to see you there!
BEST OF LUCK TO ALL THE PLAYERS!
EVENT PARTICIPANT COVID-19 WAIVER:
"I understand that participation in this event carries with it risk of injury or death and I, on behalf of myself, my heirs, administrators, executors, and assigns expressly release, forever discharge, and hold harmless I Know What You Threw Last Summer, the Tournament Director, Disc Golf Resort, and the PDGA (the "Releasees") for all personal injury, loss, damage to property, or death in connection with my participation in this event. Further, I understand and acknowledge that there currently exists a global pandemic associated with the disease COVID-19, that I am participating in this event at my own risk, that any safety precautions designed to protect against the spread of COVID-19 undertaken by the Releasees does not guarantee I will not contract COVID-19, and that, the foregoing notwithstanding, it is my specific intent to affirm my foregoing release of the Releasees with respect to any personal injury, loss, damage to property, or death I may experience from COVID-19 in connection with my participation in this event."
1)  Review all the event details.
2)  Follow the event on discgolfscene.com and set a reminder for when registration opens.
3)  Join the Facebook Event for updates and teasers.
Good luck to all the players!
Results will be posted at https://www.pdga.com/tour/event/56872
Following the event, player payout info will be shared below, shared through our Facebook page, and will be posted on the Events Bulletin Board in the Kayak Point clubhouse. Pros receive cash via PayPal. Ams receive scrip via gift cards in the Kayak Point Pro Shop.
Kayak Point
Disc Golf Resort