PDGA-sanctioned, C-Tier, Singles Tournament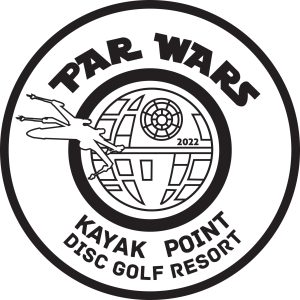 A short time in the future, on a course not too far far away…
PAR WARS
Episode I
Welcome to Par Wars! A 1 day, 1 round tournament that's also an added cash booster for the highly anticipated Kayak Open B-Tier Tournament in July. Players will compete on either the Gold, Red or Green Course layout depending on division. Good luck and MAY THE FORCE BE WITH YOU! 
Registration opens Wednesday, March 23rd at 6pm.
Players must pre-register and prepay through discgolfscene.com. Tee times are available from 9am – 1pm. 
LAYOUTS:
The Gold course will be played by all Pro Divisions, MA1, FA1, and MA40
The Red Course will be played by MA2, MA3, MA50, FA2, FA3, and FA40
The Green course (Red/Green layout on the red course) will be played by all other amateur divisions (MA4, MA60, FA4, FA50, FA60, MJ15, FJ15).
The event is sanctioned by the PDGA as a C-Tier so rounds will be rated. Payouts will be in the form of scrip to the Kayak Point DGR Pro Shop for Ams and cash via PayPal for Pros.
ENTRY FEES:
AMS: $65/player
PROS: $75/player
… includes …
$6 day pass (discounted)
$20 to AM payouts / $30 to PRO payouts
$10 to Kayak Open Pro Payout Booster
$25 to Player Pack (disc, performance tee, mini)
$2 to CTP's
$2 to Ace pot
Player's must check-in inside the Pro Shop 10-minutes prior to their tee time.
ACE POT:
If Ace pot is not hit, it will roll over to the next PDGA sanctioned tournament with DGR as the TD.
LIVE SCORING:
Scoring for both rounds will be handled using the PDGA Live Scoring website at https://www.pdga.com/score/. The access code will be provided at check-in.
GOLF CARTS:
Golf carts will not be available to players during tournament rounds, though they will be available for rent after the tournament round.
Annual Pass holders receive early bird registration opportunities for all DGR tournaments.
KAYAK OPEN BOOSTER:
The Kayak Open is our biggest tournament of the year, and only B-tier scheduled at DGR for 2022. The added cash from this tournament will help to attract more professional talent to the Kayak Open as well as helping to grow the disc golf scene in Washington. We hope to see you there!
Join the Facebook event for updates and teasers!
BEST OF LUCK TO ALL THE PLAYERS!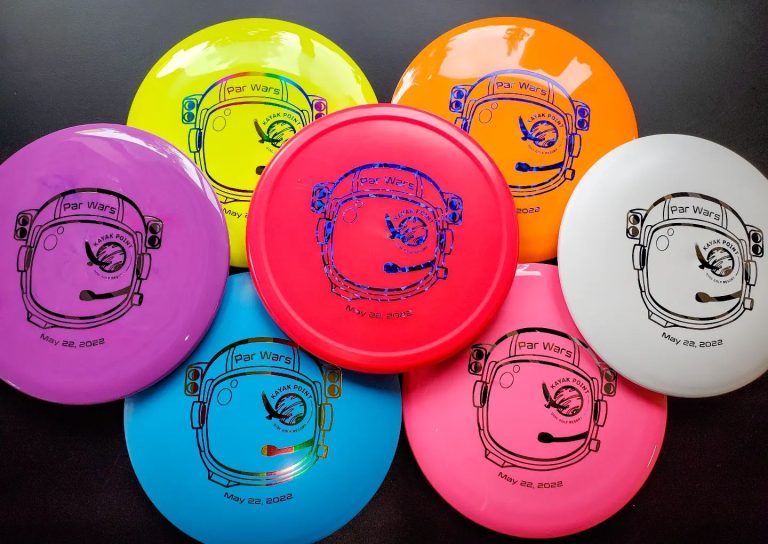 EVENT PARTICIPANT COVID-19 WAIVER:
"I understand that participation in this event carries with it risk of injury or death and I, on behalf of myself, my heirs, administrators, executors, and assigns expressly release, forever discharge, and hold harmless Par Wars, the Tournament Director, Disc Golf Resort, and the PDGA (the "Releasees") for all personal injury, loss, damage to property, or death in connection with my participation in this event. Further, I understand and acknowledge that there currently exists a global pandemic associated with the disease COVID-19, that I am participating in this event at my own risk, that any safety precautions designed to protect against the spread of COVID-19 undertaken by the Releasees does not guarantee I will not contract COVID-19, and that, the foregoing notwithstanding, it is my specific intent to affirm my foregoing release of the Releasees with respect to any personal injury, loss, damage to property, or death I may experience from COVID-19 in connection with my participation in this event."
1)  Review all the event details so you can decide if it's a good fit for you.
2)  Follow the event on discgolfscene.com and set a reminder for when registration opens.
3)  Join the Facebook Event for updates and teasers.
COngrats to all the players!
Results are posted at https://www.pdga.com/tour/event/56870
Following the event, player payout info will be shared below, shared through our Facebook page, and will be posted on the Events Bulletin Board in the Kayak Point clubhouse. Pros receive cash via PayPal. Ams receive scrip via gift cards in the Kayak Point Pro Shop.
MPO
1 – $30 Spencer Noel
MP40+
1 – $60 T.J. Donahue
MA40+
1 – $77 Nathan Crutchfield
2 – $53 Ben Phillips
3 – $40 Jackson Messner
4 – $30 Neil Vickers
T5 – $10 Richard Eastman
T5 – $10 Chris Backus
MA50+
1 – $76 Tom Nelson
2 – $53 Robbie Mapes
3 – $40 Tim Laverty
4 – $30 Dan Schroeder
5 – $21 Andy Salkield
MA60+
1 – $57 Jeffrey Arnold
2 – $36 Paul Kauf
3 – $27 Steve Rolling
4 – $20 Don Clark

MA1
1 – $84 Quinn Edgerton
2 – $62 Alexander McAbee
3 – $51 Joey Smith
T4 – $39 Jack Schreuder
T4 – $39 Tristan Keller
T6 – $17 Andrew Hanson
T6 – $17 Corban Phillips
T6 – $17 Brian Powell
T6 – $17 Atticus Abraham
T6 – $17 Parker Johnson
FA1
1 – $20 Goose Lyne
FA2
1 – $20 Hannah Keller

FA3
1 – $20 Ana Keller
FA4
1 – $36 Mel Vargo
2 – $24 Jennifer Czuprinsky
MJ15
1 – $48 Charlie Pozar
2 – $32 Hank Duffy
MA2
1 – $68 Johnathan Lewis
2 – $64 Everett Powers
T3 – $57 Sam Giffin
T3 – $57 Ethan R.
T3 – $57 Jack Stewart
T3 – $57 Devin Sullivan
T7 – $50 Aaron Young
T7 – $50 Bryan Glascoe
T9 – $41 Mike Pozar
T9 – $41 Dustin Hendricks
T9 – $41 Connor Neddersen
T9 – $41 Jade Dudoward
T13 – $22 Jacob Stilley
T13 – $22 Matthew Garafalo
T13 – $22 Dylan Morse
T13 – $22 Brodie Whitcomb
T13 – $22 Joshua Jurosek
T13 – $22 Dillon Boisoneau
T13 – $22 Matthew Lopez
T13 – $22 Benjamin Trammell
MA3
1 – $69 Michael VanDaveer
T2 – $61 Adam Desimone
T2 – $61 Tristan Coragiulo
4 – $59 Michael Carpenter
T5 – $52 Zach Bolstad
T5 – $52 Tyler Sakraida
T5 – $52 Alex Jernigan
T8 – $45 Dillon Green
T8 – $45 Colt Erickson
10 – $43 Jon Jurewicz
T11 – $35 Adrian Atman
T11 – $35 Austin Shope
T11 – $35 Nicholas Baker
T11 – $35 Graham Manson
15 – $31 Philip Saul
T16 – $14 Kenny "Flip Flops" Hauk
T16 – $14 Brady Shope
T16 – $14 Christopher Hoffman
T16 – $14 Knight Ring
T16 – $14 Jeremy Streck
MA4
T1 – $58 Mark Hansen
T1 – $58 Sean MacGugan
3 – $50 Justin Myser
T4 – $40 Matt Briggs
T4 – $40 Rodney Demel
T4 – $40 Jeffrey Gebhardt
T7 – $27 Josh Pepe
T7 – $27 Danny Clark
T9 – $10 John Wilhoit
T9 – $10 Jeff Boyle
CTP Winners
(closest to pin)
Prizes available in Pro Shop
MPO & MP40
Gold 5 – ???
(no name on flag/card)

MA40 & FA1
Gold 16 – Rob Duffy
MA50 & MA60
Red 15 – Robbie Mapes
MA1
Gold 1 – Corban Phillips
MA2
Red 1 – Mike Jones
MA3
Red 6 – Michael Carpenter
MA4
Green 18 – Nik Demel
FA2, FA3, FA4
Red 13 – Hannah Kellar
MJ15
Red 17 – Matthew P. West
Queen of Aces
Ace-Run Challenge
Pitch & Putt Hole 9
1st
Spencer Noel – 5 aces

Tied 2nd
Everett Powers – 4 aces
Tied 2nd
Michael VanDaveer – 4 aces
Kayak Point
Disc Golf Resort