Disc Golf Resort Presents
PDGA-sanctioned, C-Tier Singles Tournament
Tournament Overview
Chains Addiction is a 18-hole PDGA-SANCTIONED C-TIER tournament with all players competing on the short nine loop on the Red Course (hole 1-4 & 14-18), followed by the front 11 holes on the Blue Course for a total of 20 holes.
Registration opens Wednesday, February 8th at 6pm on discgolfscene.com.
ENTRY FEES:
Entry fee of $39/player includes…
PROS & AMS
– $12 for a discounted day pass
– $25 to payouts, cash for Pros via PayPal / scrip for Ams to Kayak Point DGR Pro Shop 
– $2 PDGA fee
– Optional CTP buy in = $3
– Optional Ace Pot buy in = $2
(Tournament Ace Pot is currently at $1000, and a backup Ace Pot is building!)
—————————
TEE TIMES:
Flex start; players will choose a card / pair of tee times (both Red & Blue courses) starting on the Red Course between 8 am to 1pm during registration. Cards of up to 4 players can include players competing in a mix of divisions. All cards must have a minimum of 3 players. All cards will begin their rounds on hole 1 for both courses.
Player's must check-in inside the Clubhouse at least 10-minutes prior to their tee time for the PDGA Live Scoring passcode.
—————————-
DIVISIONS:
A wide range of divisions will be offered for this event including mixed, female, and age protected divisions. 
—————————-
ACE HUNTER CONTEST:
When you register you have the option to buy 5 ($5), 10 ($10) or 25 ($20) shots at an ace on a unique safari hole (TBA) on the Pitch & Putt course. Tickets/shots are redeemable between rounds 1 and 2 with a DGR Employee present to keep track of aces made. Whoever hits the most aces will get a $100 Gift Card to the pro shop. Depending on how many tickets are sold, that amount may increase!
In the event of a tie, the prize money will be split evenly.
Tickets may be collected either during player check-in, or after the completion of the first round in the Pro Shop.
—————————-
ACE POT:
The Tournament Ace Pot currently sits at $610 as of 3/18/23, plus this event's additions. If an Ace is not hit during this event, all Ace Pot funds will roll over to the next tournament with DGR staff as the TD that is open to all. 
—————————
SCORING:
Scores will be tracked using PDGA Live Scoring available at pdga.com/score or the PDGA Live Scoring App. The passcode will be provided at player check-in. At least 1 player per card must keep score using PDGA Live Scoring. We recommend that another player keep a second backup scorecard either also using PDGA Live Scoring, UDisc, or paper scorecard.
—————————
PLAYER CHECK-IN:
Players should check-in inside the Clubhouse at least 10 minutes before their scheduled tee time to get the PDGA Live Scoring passcode. 
—————————
PAYOUTS:
Cash payouts to Pros via PayPal and scrip to Kayak Point DGR Pro Shop for Ams.
—————————
GOLF CARTS:
Golf carts will NOT be available to players during tournament rounds. They will be available for rent to spectators.
—————————
ACCOMMODATIONS:
Get discounted rates at area hotels here: https://www.playeasy.com/events/366f10b9-b029-4965-932d-20c858dcc81b/hotels
Or, visit our "Where to Stay" page for info on campgrounds, RV parks, and more, plus other things to do in the area.
—————————
EARLY REGISTRATION:
Annual Pass holders receive early bird registration opportunities for all DGR tournaments as Annual Event Sponsors. 
EVENT PARTICIPANT COVID-19 WAIVER:
"I understand that participation in this event carries with it risk of injury or death and I, on behalf of myself, my heirs, administrators, executors, and assigns expressly release, forever discharge, and hold harmless Dropkick Mulligans, the Tournament Director(s), Disc Golf Resort, and the PDGA (the "Releasees") for all personal injury, loss, damage to property, or death in connection with my participation in this event. Further, I understand and acknowledge that there currently exists a global pandemic associated with the disease COVID-19, that I am participating in this event at my own risk, that any safety precautions designed to protect against the spread of COVID-19 undertaken by the Releasees does not guarantee I will not contract COVID-19, and that, the foregoing notwithstanding, it is my specific intent to affirm my foregoing release of the Releasees with respect to any personal injury, loss, damage to property, or death I may experience from COVID-19 in connection with my participation in this event."
Annual Pass holders receive Annual Event Sponsorship status as one of their pass perks. This allows them early registration opportunities for all DGR-run tournaments during their pass term. 
– Jarod Paul
– Frank Thompson
– Mike Ensor
– Eric Sandbo
– Rob Christiansen
– Michael Norton
– Jeffrey Owen
– Chris Seitz
– Marty Stainbrook
– Tim Lowe
– Mike Strand
– Charlie Couch
– Eli Evans
– Scott Blue
– Alex Couch
– Eddie Wren
– Keirnen Hite
– Brian McCormick (event artwork)
Best of Luck to all the players!
Watch the scores live and see final results at https://www.pdga.com/tour/event/66980
After the event, payout info will be shared below, on our Facebook page, on the Events Bulletin Board in the Clubhouse, and on DiscGolfScene.com.
Pros receive cash via PayPal. Ams receive scrip via gift cards to the Pro Shop.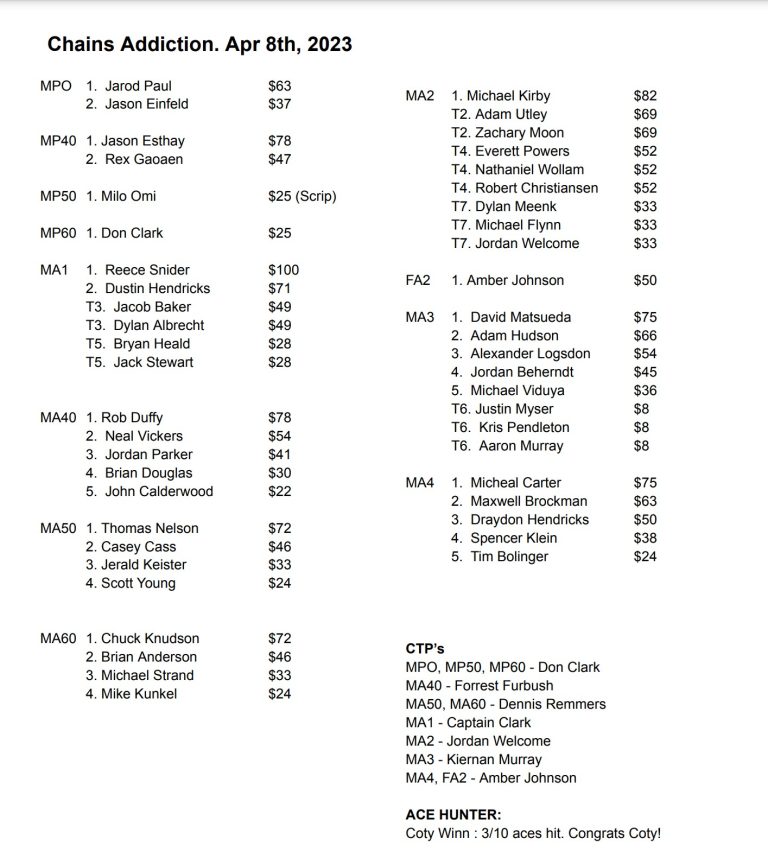 Kayak Point
Disc Golf Resort