Post-Thanksgiving
Friday, November 26, 2021
PDGA-sanctioned, C-Tier, Singles Tournament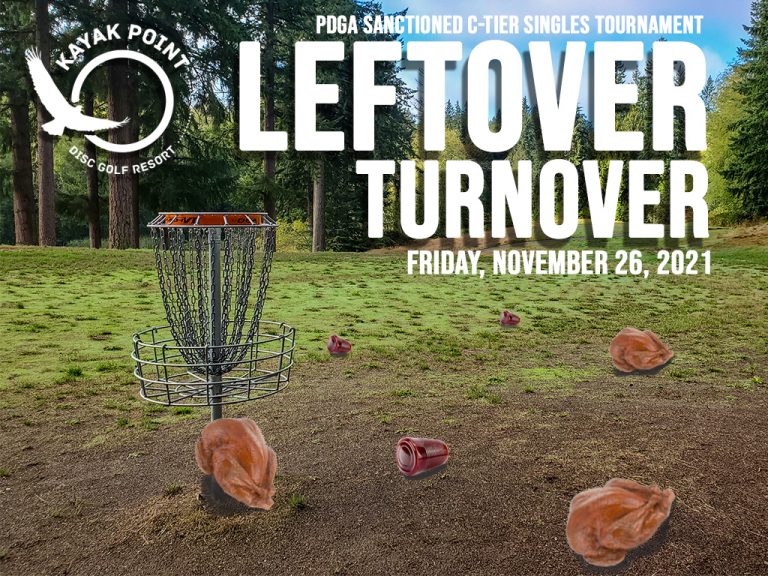 Kayak Point Disc Golf Resort is excited to announce the "Leftover Turnover," a 1-day, 2 round tournament that will take place the Friday after Thanksgiving on November 26, 2021.
The first round will be on the par 64 Red Course (normal tees) followed by a round on the 18-hole par 2 Pitch & Putt Course. Download a copy of the Pitch & Putt course map that includes Out-of-Bounds (O.B.) definitions.
Players must pre-register and prepay through Discgolfscene.com.
The event is sanctioned by the PDGA as a C-Tier so rounds will be rated. Entry fee includes greens fees, PDGA fee, and payouts in the form of scrip to the Kayak Point DGR Pro Shop for Ams and cash via PayPal for Pros. Players may also choose to enter the ace pot and enter for CTPs for an additional $3 each during online registration. If no aces are hit on the Red Course, ace pot payout will go to whomever has the most aces on the Pitch & Putt Course (with a CTP playoff if there's a tie).
Entry Fee Breakdown:
AMS & PROS: $30/player
$8 greens fee (all-day pass)
$2 PDGA fee
$20 to payouts
$3 Ace pot (optional)
$3 CTP (optional)
The first round on the Red Course will utilize Tee Times. Once cards are finished, they should proceed in a timely manner to play their round on the Pitch & Putt with the same cardmates. Tee times are available from 9am – 12pm (every 10 minutes) and cards may include a mix of divisions.
Player's must check-in inside the Pro Shop.
Scoring for both rounds will be handled using the PDGA Live Scoring website at https://www.pdga.com/score/. The access code will be provided at check-in.
Consumption of alcohol during rounds will NOT be permitted.
Golf carts will not be available to players, though they will be available for rent to spectators.
Spectators are invited to watch the competition, especially on the Pitch & Putt from around 11am – 4pm.
Thanks for your support and we look forward to celebrating with you!
We have so much for which to be thankful!
1)  Review all the event details so you can decide if it's a good fit for you.
2)  Follow the event on discgolfscene.com and set a reminder for when registration opens.
3)  Join the Facebook Event for updates and teasers.
Results will be posted at https://www.pdga.com/tour/event/55187.
Following the event, player payout info will be shared below, shared through our Facebook page, and will be posted on the Events Bulletin Board in the Kayak Point clubhouse. Pros receive cash via PayPal. Ams receive scrip via gift cards in the Kayak Point Pro Shop.
MPO
1. $72 Josh Morris
2. $43 Zachery Laycock
3. $30 Alex Knighton
4. $20 Jason Einfeld
MP50
1. $40 Eddie Wren
MA1
1. $65 Quinn Edgerton
2. $45 Riley O'Toole
3. $30 Matt Nerland
4. $25 Alexander Paschal
T5. $10 Nate Waters
T5. $10 Erik Robbin
FA1
1. $40 Corey Gerberdolan
MA40
1. $50 Matthew Pacheco
2. $30 Rob Duffy
FA40
1. $20 Shayna Schuermann
MA60
1. $40 Eric Sandbo
MA2
1. $97 David Powell
T2. $58 Trace Sendele
T2. $58 Jonathan Lewis
4. $40 Dylan Kitterman
T5. $28 Sean Saxer
T5. $28 Collin Knight
T7. $18 Jack Stewart
T7. $18 Aaron Young
9. $15 Jason Morgan
FA2
1. $20 Jennessa Ewing
MA3
1. $120 Matthew Mulkins
2. $80 Jeff Gayle
T3. $53 Owen Rich
T3. $53 Steven Verver
5. $43 Jesse Stewart
T6. $28 Eric Shulda
T6. $28 Kenny Hauck
8. $25 Evan Stagliano
9. $20 William Kennedy
9. $20 Max White
9. $20 Nicholas Baker
12. $15 Daniel Ewing
T13. $3 Adam Lindsey
T13. $3 Jason Rubin
T13. $3 Brian O'Connor
T13. $3 Eric Miller
T13. $3 John Bradley
FA3
1. $40 Daisey James
2. $20 Emily Loucks
MJ<15
1. $40 Quentin Stewart
CTPs
Hole #5 Riley O'Toole
Hole #6 Michael Kirby
Hole #13 Corey Gerberdolan
Hole #13 Brian O'Connor
Hole #15 Josh MorrisHole
Hole #17 Quentin Stewart
Kayak Point
Disc Golf Resort