PDGA-sanctioned, C-Tier, Singles Tournament
"Fear causes hesitation, and hesitation will cause your worst fears to come true."
– Bhodi, Point Break, 1991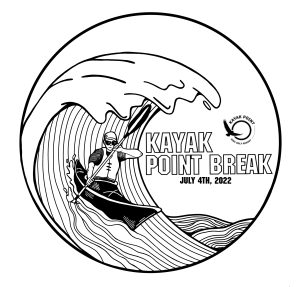 Kayak Point Break
Surf's up! Welcome to "Kayak Point Break," a 1-round tournament that is also a fundraiser for the much anticipated Blue Course at Kayak Point DGR. The event is sanctioned by the PDGA as a C-Tier so rounds will be rated. Payouts will be in the form of scrip to the Kayak Point DGR Pro Shop for Ams and cash via PayPal for Pros. Divisions will be available for all player skill levels. 
Registration opens Thursday, May 5th at 6pm.
Players must pre-register and prepay through discgolfscene.com (link below).
Tee times are available from 9am – 1pm. 
Player's must check-in inside the Clubhouse at least 10-minutes prior to their tee time.
LAYOUTS:
The Gold course will be played by all Pro Divisions and MA1.
The Modified Gold course (Alt tee on 6 & 17) will be played by MA2, FA1 and MA40.
The Red course will be played by MA3, MA50, MA60, FA2 and FA40.
The Green course (Red/Green layout on the red course) will be played by MA4, FA3, FA4, FA50, FA60, MJ15, FJ15.
ENTRY FEE:
AMS & PROS: $65/player
… includes …
$20 to Payouts
$23 Player Packs 
$2 to CTP's
$2 to Ace pot
$2 to PDGA fees
$6 Day Pass (discounted)
$10 to Blue Course Fundraiser
PLAYER PACK:
All players will receive a player pack including a custom tourney-stamped disc from DGA, a double-wall vacuum-insulated tumbler, and a commemorative tournament pin. Retail value > $50.
ACE POT:
If Ace pot is not hit, it will roll over to the next PDGA sanctioned tournament with DGR as the TD.
LIVE SCORING:
Scoring for both rounds will be handled using the PDGA Live Scoring website at https://www.pdga.com/score/.
The access code will be provided at check-in.
QUEEN OF ACES:
For an additional incentive to raise funds for the blue course, we've added a special ace contest to go along with our Queen of Hearts fundraiser raffle.
– On the day of the tournament, every Queen of Hearts raffle ticket you buy ($1) gets you 1 shot for an ace on Pitch and Putt Hole 4
– Whoever hits the most aces on Hole 4 wins a 5-pack of day passes + a rare disc from our special collection
– A SECOND rare disc will be added to the prize if 200 raffle tickets are sold
– Buy as many raffle tickets as you want!
– Shots will be counted from 2 – 4 pm
GOLF CARTS:
Golf carts will not be available to players during tournament rounds. They will be available for rent to spectators.
EARLY REGISTRATION:
Annual Pass holders receive early bird registration opportunities for all DGR tournaments.
THE BLUE COURSE:
A little about the Blues: The Blue course will be the harder of the two wooded courses at Kayak Point and features tight lines through towering trees with a lot of elevation change. It will offer a great contrast to our existing courses and we can't wait to get everyone out there to play it!
BEST OF LUCK TO ALL THE PLAYERS!
EVENT PARTICIPANT COVID-19 WAIVER:
"I understand that participation in this event carries with it risk of injury or death and I, on behalf of myself, my heirs, administrators, executors, and assigns expressly release, forever discharge, and hold harmless Kayak Point Break, the Tournament Director, Disc Golf Resort, and the PDGA (the "Releasees") for all personal injury, loss, damage to property, or death in connection with my participation in this event. Further, I understand and acknowledge that there currently exists a global pandemic associated with the disease COVID-19, that I am participating in this event at my own risk, that any safety precautions designed to protect against the spread of COVID-19 undertaken by the Releasees does not guarantee I will not contract COVID-19, and that, the foregoing notwithstanding, it is my specific intent to affirm my foregoing release of the Releasees with respect to any personal injury, loss, damage to property, or death I may experience from COVID-19 in connection with my participation in this event."
1)  Review all the event details.
2)  Follow the event on discgolfscene.com and set a reminder for when registration opens.
3)  Join the Facebook Event for updates and teasers.
Good luck to all the players!
Results will be posted at https://www.pdga.com/tour/event/56874
Following the event, player payout info will be shared below, shared through our Facebook page, and will be posted on the Events Bulletin Board in the Kayak Point clubhouse. Pros receive cash via PayPal. Ams receive scrip via gift cards that will be available following the event in the Kayak Point Pro Shop.
MPO
1 – $74  Carter Ahrens
2 – $47  Zack Baskett
3 – $34 Trevor Loftin
4 – $25  Kirby Snyder
MP40+
1 – $40  Nick Sanchez
MP50+
1 – $38  Steve Sandvik
T2 – $11 Eddie Wren
T2 – $11  Scot Ranney
FA1 
1 – $20  Daisey James
FA2
1 – $20  Janessa Ewing
FA3
1 – $36  Carissa Erickson
2 – $24  Amber Johnson
MA40+
1 – $58  Wade Manke Jr.
T2 – $31  Robb Duffy
T2 – $31  Omar Valdez
MA50+
1 – $57  Thomas Nelson
2 – $36  Don Wesley
3 – $27  Robbie Mapes
MA60+
T1 – $20  Bertrand Webster
T1 – $20  Don Clark 
MA1
T1 – $54  Tyler Rohm
T1 – $54  Jarod Paul
3 – $30  Nick Greco
4 – $22  Mitchell Dorman
MA2
1 – $62  Josh Jurosek
2 – $54  Matthew Gegner
3 – $45  Jack Stewart
4 – $42  Jade Dudoward
T5 – $35  Collin Knight
T5 – $35  Michael Flynn
T7 – $11  Bryan Heald
T7 – $11  Aaron Young
T7 – $11  Michael Kirby
T7 – $11  Charlie Couch
MA3
1 – $66  Colt Erickson
T2 –  $48  Dylan Morse
T2 – $48  Brian Witter
T2 – $48  Alex Couch
T2 – $48  Travis Schuermann
T2 – $48  Brandon Moore
MA4
T1 – $57  Bruce Mcleod
T1 – $57  Wyatt Thorson
3 – $44  Victor Gaspar
4 – $36  Rich Bryant
T5 – $23  John Bradley
T5 – $23  Sean MacGugan
MJ15
1 – $20  Hank Duffy 
CTP Winners
(closest-to-pin)
*Prizes available in Pro Shop*
MPO
Gold Hole 1 – Trevor Loftin
MP40 & MP50
Gold Hole 5 – Gustavo Avalos
MA1
Gold Hole 15 – Jarod Paul
MA2
Gold Hole 7 – Michael Kirby
MA40 & FA1
Gold Hole 16 – Wade Manke Jr.
MA50 & MA60
Red Hole 13 – Matthew Hubbard
MA3
Red Hole 15 – Dylan Morse
MA4
Red Hole 17 – Victor Gaspar
FA2 & FA3
Red Hole 17 – Amber Johnson
Ace Pot
The Ace Pot was not hit so it rolls over to Full Metal Basket scheduled for Aug 27 & 28, the next event for which Disc Golf Resort is the Tournament Director. 
Kayak Point
Disc Golf Resort