Big drives, touchy approaches.
Intermediate level course
Red – Intermediate
(825+ PDGA player rating)
18-hole course that features turf tee pads and DGA Mach VII baskets. 
The Red Course at Kayak Point Disc Golf Resort is great for everyone. It is designed for Beginner – Intermediate players and is our most beginner-friendly course following the free Pitch & Putt. 
The Red Course plays on fairways from the old golf course, with some tees and baskets tucked into the trees along the fairways. With mostly open fairways and multiple par 4's, there's a good amount of room for error without too much punishment.  Advanced players can aim for a perfect round (current record is -18), while beginners benefit from the space to see their discs' full flight. 
Day pass and tee times are required. Max 4 people per card/tee time.
See and download the course map below.
Green Course Layout
The course also features 9 alternate shorter tee pads. When these shorter tee pads are used in combination with the other 9 normal red tees, it's referred to as the Green layout. The Green Layout is for the Novice level player (825 and lower PDGA player rating).

#1 rated course in Washington State in 2022 according to UDisc.
#42 in UDisc's World's Best Disc Golf Courses in 2022.
Find the Red Course on UDisc!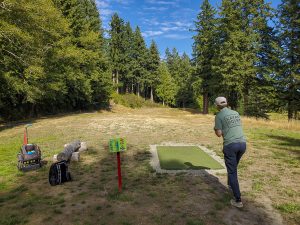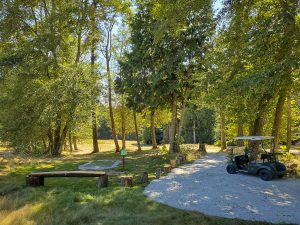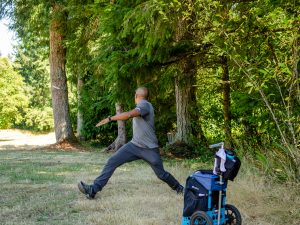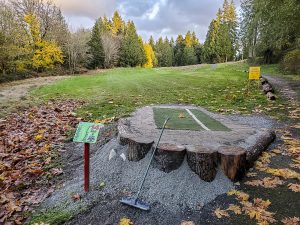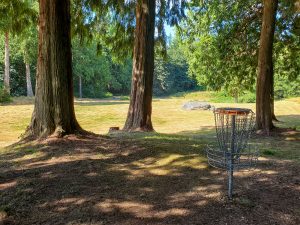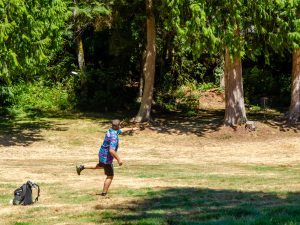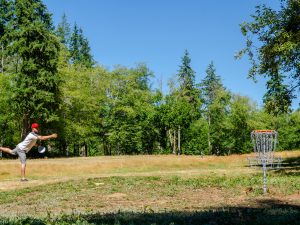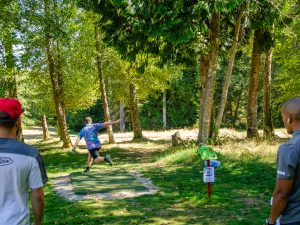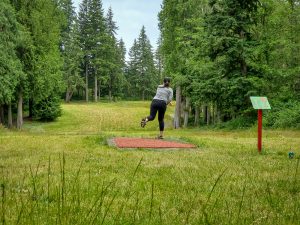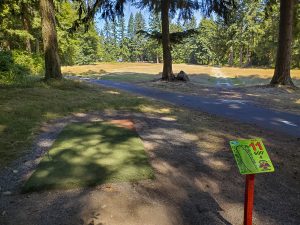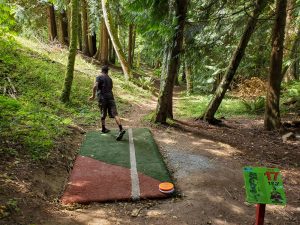 "Awesome course! Some big open throws that allow you to just let it rip which is fun."
December 21, 2021 | cdub14
"this is my favorite course in Oregon and Washington. Just feels like a proper disc golf course with wide-open fairways and so well-maintained and the pitch and putt is so much fun as well I'm totally doing a trip up here again."
September 18, 2021 | antistandard
"Amazing. Great staff, beautiful layout, well supplied club house. We will be back soon and often, this is a DG Mecca."
June 19, 2021 | frizztoss
"Love these courses. Thank you for building this! Played the reds. Loved every minute. Beautiful fairways. Well thought out, fair holes. I will be back again and again!"
December 20, 2020 | mikkelhong
There is a large Red Course Map right at the first tee of the course. You are welcome to snap a picture of it for reference or refer to the image here. The course layout is also on the UDisc App.
The Red Course is easy to follow since it mostly plays on the old golf fairways. Paths lead you to every tee and near every basket. 
Every tee has a full color tee sign that includes the hole number, the distance, the par, and a map that represents that hole layout. 
Casual 
1.  Carter Ahrens – 46 – 6/18/22
2. Chris Holden – 49 
2.  Robert Medlock – 49 – 6/12/21
4.  Mike "Big Dawg" Werth – 50 – 7/7/21
4.  Mitchell Dorman – 50 *UDisc
4.  Kenny Emery – 50 – 11/21/20
4.  Geoff Marks – 50 – 12/12/20
4.  Tyson Bunce – 50 – 8/15/21 
Sanctioned
1.  Nick Shuler – 47 – 2021 Fall League 11/21/21
2.  Nick Shuler – 48 – 2021 Winter League 1/17/21
2.  Carter Ahrens – 48 – Kayak Point Open 7/16/22
4.  Zac Laycock – 49 – 2021 Fall League 10/10/21
5.  Corbin Higdon – 50 – Kayak Kickoff 8/22/20
5.  Tyler Schrock – 50 – Kayak Kickoff 8/22/20
5.  Chandler Fry – 50 – Kayak Kickoff 8/22/20
5.  Nick Shuler – 50 – 2021 Winter League 1/3/21 
5.  Zac Laycock – 50 – Fall League 11/21/21 
Casual 
1.  Goose Lyne – 69 – 9/25/21
2. Corey Gerberdolan – 73 8/27/21 
3.  Jody Lowell – 79 – 8/27/21
We're looking for more scores to add! Let us know in the Pro Shop if you shot a top 5 score. 
Sanctioned
1.  Madison Tomaino – 61 – Kayak Kickoff 8/22/20
2.  Corey Gerberdolan – 63 – 2022 Winter League 1/16/22
2.  Lacey Johns – 63 – Crushin' at Kayak – 6/26/22
4. Dani Peterson – 64 – Kayak Point Open 6/26/21
5.  Lacey Johns – 66 – Kayak Point Open 7/17/22
5.  Lizzy Dalton – 66 – Kayak Point Open 7/17/22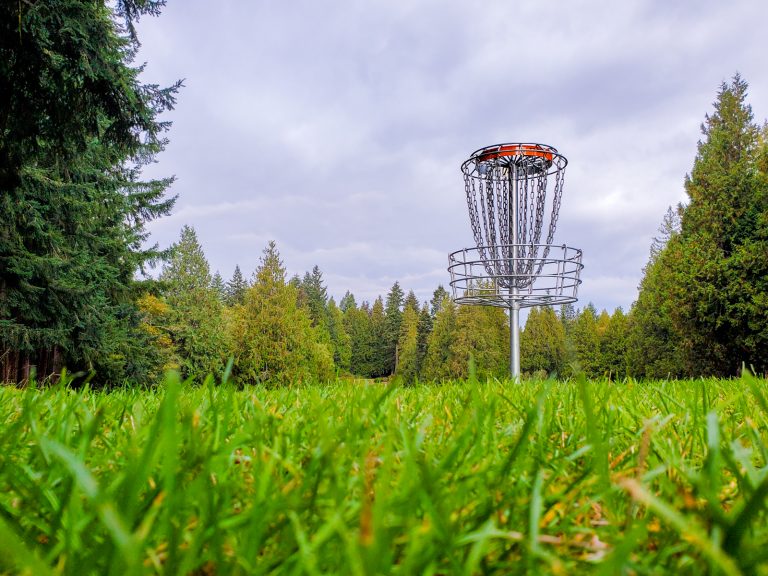 Hole #1
Tristan Amaral-Dempsey – 11/5/21
Hole #2
Joshua Braun – 8/7/21
Hole #6
Andrew Hanson – 11/21/20
Geoff Marks – 5/28/21
Kirby Snyder – 6/23/21
Tristian Kellar – 1/23/22
Riley O'Toole – 3/20/22
Todd Rapacz – 4/3/22
Hole #13
Jacob Dills – 11/6/20
Rob Orlick – 2/7/21
Jayson Gallatin – 3/6/21
Otis Holmes – 5/28/21
Sean Duncan – 5/29/21
TC Todd – 6/12/21
Hole #15
Todd Stewart – 6/21/20
Travis Crawford – 6/27/20
Greg Plourde  – 11/19/20
Jeremy Spotted Bear – 1/16/21
Robert Medlock – 6/19/21
Michael Carpenter – 8/28/21
Hole #17
Travis Lawing – 6/20/20
Ryan O'Flahery – 7/3/20
J. Sean Morehouse – 7/?/20
Jeff Lindsay – 8/2/20
Curtis Ferrill – 8/18/20
Eric Sandbo – 12/12/20
Jesse Anderson – 2/21/21
Curtis Flolid – 4/4/21
Matt Schwerin – 4/30/21
Dan Hargrave – 5/15/21
Jeff Smith – 5/22/21
Carol Schonlau – 6/27/21
Rob McPeak – 7/18/21
Collin Knight – 8/7/21
Trevor McCleskey – 9/5/21
Charley Stelling – 11/13/21
Erich Weitmann – 1/16/22
Randy Perry – 1/23/22
Tyler Schrock – 1/23/22
Eric Miller – 2/13/22 
Cody Zander – 5/30/22
Austin Reif – 6/18/22 
Josh Forsythe – 7/6/22
Nathan Hicks – 7/10/22
Robbie Harthett – 7/13/22
Kayak Point
Disc Golf Resort